Introduction
In today's digital age, free social media scheduling tools have become a crucial tool for businesses and individuals to connect with their audience, promote brands, and share valuable content.
These tools streamline content management and optimize social media presence.
Handling numerous social media accounts can be quite overwhelming and can consume a significant amount of time.
Enter social media scheduling tools – the ultimate time-saving solution!
In this blog post, we'll explore the top free social media schedulers, empowering you to streamline your marketing efforts without spending a dime.
These tools will help you plan, schedule, and automate your posts, ensuring consistent and timely content delivery across platforms.
Don't let the complexities of social media management hold you back.
Discover the best free social media scheduling tools and take your marketing game to the next level!
What is a social media scheduling tool?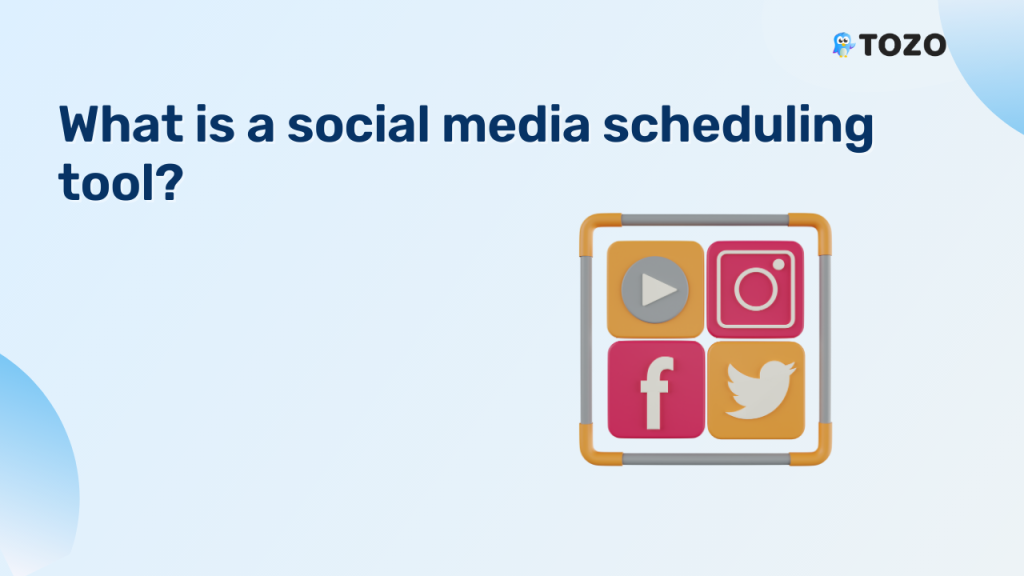 A social media scheduling tool is a helpful software or app that lets you plan and schedule your social media posts in advance.
It makes managing your social media accounts easier by putting everything in one place. You can decide when and what to post, even when you're not online.
This way, you can stay active on social media and reach your audience without spending all your time on it.
It's a handy tool for individuals and businesses who want to stay organized and make the most of their social media presence.
7 Best free social media scheduling tool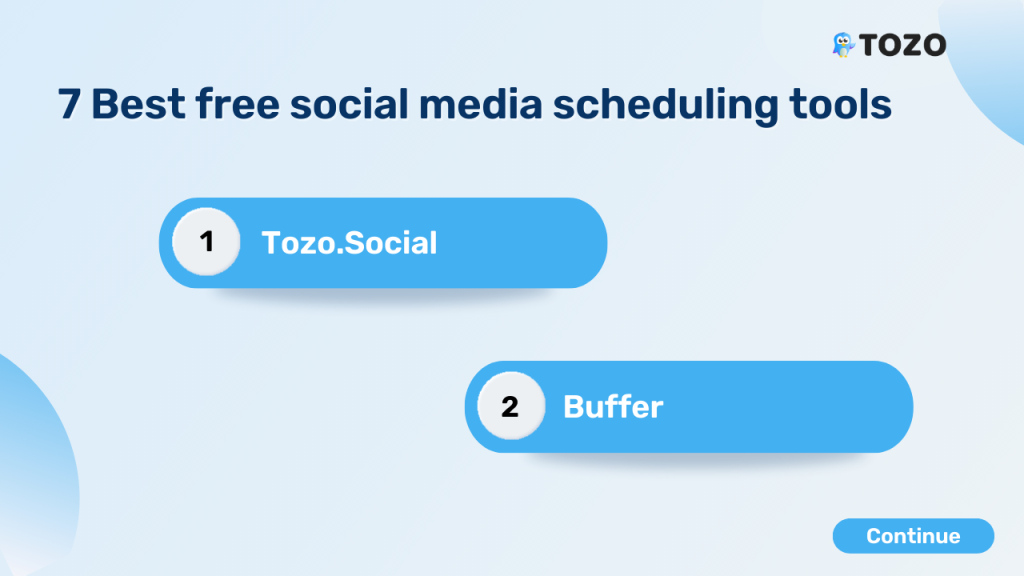 1. Tozo.Social:
Tozo.social is a powerful social media management tool that simplifies scheduling, publishing, and analyzing posts across various platforms.
With an intuitive interface and automation features, it streamlines tasks for businesses and marketers, saving valuable time and effort.
The tool's comprehensive analytics enable data-driven decisions and performance monitoring, while advanced social media listening ensures effective audience engagement and spotting opportunities.
Moreover, Tozo.social's team management features facilitate seamless collaboration among team members.
In one platform, Tozo.social offers essential tools for optimizing social media strategies, conserving resources, and achieving remarkable results.
2. Buffer:
Buffer is one of the pioneers in the social media scheduling industry and has maintained its reputation for being an efficient and easy-to-use tool.
With its free plan, users can connect up to three social media accounts from platforms like Twitter, Facebook, LinkedIn, and Instagram.
The intuitive content calendar allows you to plan and schedule up to ten posts per platform in advance.
Additionally, Buffer provides useful insights on your post performance, helping you identify the best times to engage with your audience.
The ability to customize and track shortened links within the platform is an added bonus, allowing you to monitor link clicks and engagement.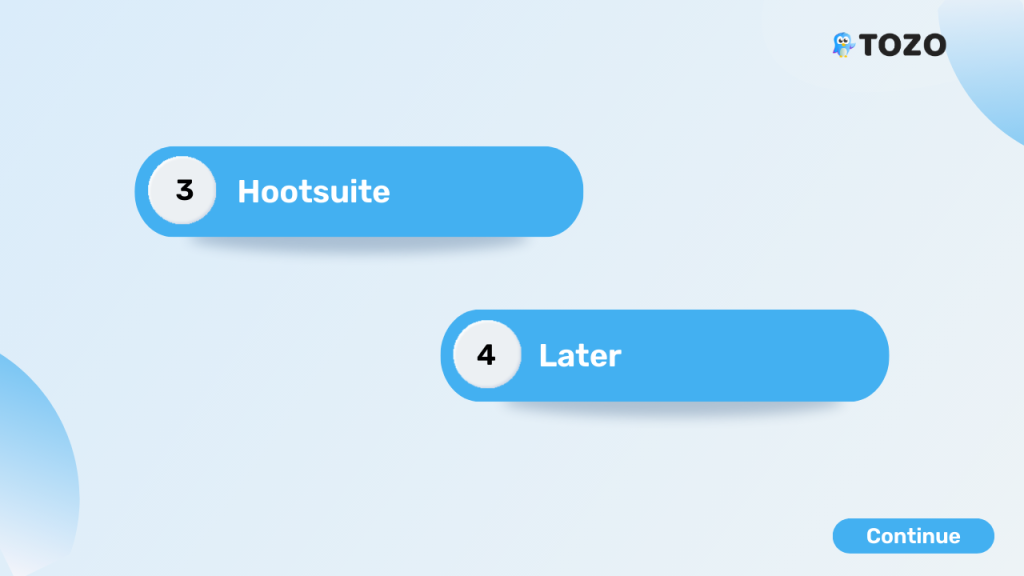 3. Hootsuite:
Hootsuite has a vast user base due to its versatility and broad range of features.
The free plan allows users to manage up to three social media accounts, including Facebook, Twitter, LinkedIn, Instagram, and more.
Hootsuite's dashboard lets you view all your connected accounts in one place, making it easy to schedule posts, respond to comments, and monitor social media activities.
The free plan offers basic analytics, enabling you to gauge the performance of your posts and track key metrics such as follower growth and engagement rates.
With its extensive library of apps and integrations, Hootsuite can be customized to suit your unique social media needs.
4. Later:
Designed with a primary focus on visual platforms, Later is a top choice for Instagram enthusiasts.
Its free plan allows users to schedule up to 30 Instagram posts per month, making it perfect for individuals and small businesses who prioritize Instagram as their main marketing channel.
The intuitive drag-and-drop feature helps you plan your feed aesthetically, ensuring a cohesive and visually appealing profile.
Additionally, Later offers the ability to preview your posts before they go live, giving you a sneak peek into how your content will appear on your Instagram grid.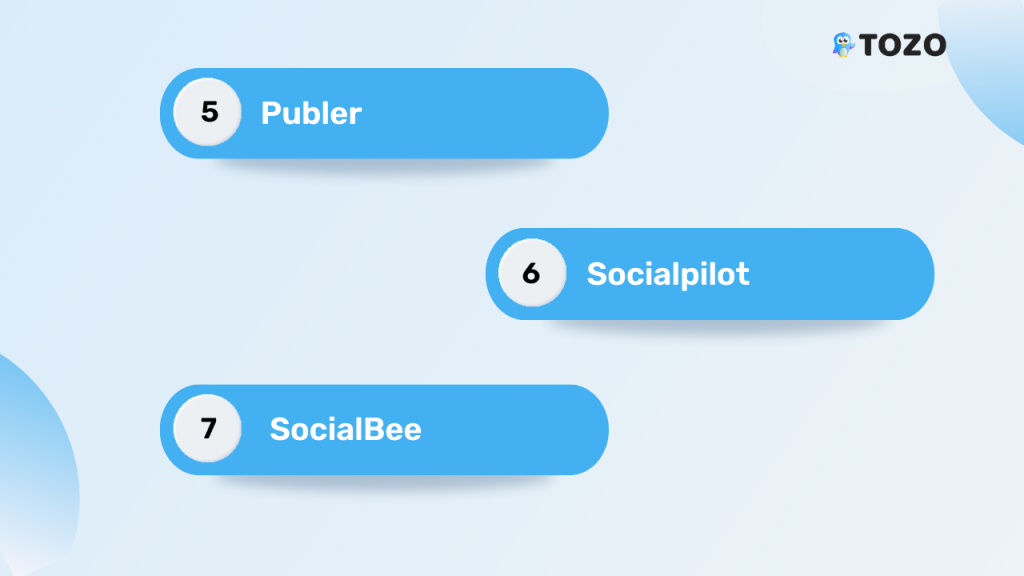 5. Publer:
Publer is a user-friendly social media scheduling tool that enhances your social media management experience.
With its bulk scheduling feature, you can effortlessly upload and schedule multiple posts using CSV files.
Custom watermarks ensure brand consistency, while collaboration tools streamline teamwork and approval workflows.
Publer's content curation suggests relevant articles, saving time on research.
For those managing multiple clients, the client management feature offers organized and separate content scheduling.
This powerful platform also offers social media analytics, enabling you to measure campaign success, track audience growth, and optimize your strategy.
Embrace Publer's efficiency and take your social media presence to new heights!
6. Socialpilot:
SocialPilot is a feature-rich free social media scheduling tool that elevates your social media engagement.
Its content curation capability suggests industry-relevant articles, ensuring fresh and engaging content for your audience.
With an intuitive interface, SocialPilot simplifies client management, allowing you to organize and schedule content for multiple clients effortlessly.
Analyze your social media performance with insightful metrics, empowering data-driven decisions.
Collaboration tools facilitate seamless teamwork, streamlining the approval process. SocialPilot caters to various platforms, including Facebook, Twitter, LinkedIn, Pinterest, and Instagram.
Unlock the potential of your social media marketing with SocialPilot's versatility and comprehensive set of features.
7. SocialBee:
Though not entirely free, SocialBee offers a 14-day free trial period, which grants access to its full suite of features.
During the trial, users can explore SocialBee's content categories, which allow you to organize your content into different themes and post them on a predefined schedule.
This feature is incredibly useful for maintaining a well-balanced content mix across your social media platforms.
SocialBee also supports bulk scheduling, making it convenient to upload and schedule multiple posts simultaneously.
If you find SocialBee's functionalities align with your social media strategy, the trial period allows you to decide whether it's worth investing in a paid plan.
SocialBee offers advanced analytics during the trial, providing valuable insights into your social media performance.
These analytics help you understand which posts resonate best with your audience, allowing you to fine-tune your content strategy for maximum impact.
Conclusion
In today's fast-paced digital landscape, staying on top of your social media game is essential, but it doesn't have to be overwhelming.
Thanks to the best free social media scheduling tools, managing your online presence has become more accessible than ever.
These efficient tools empower you to plan and schedule your posts in advance, ensuring a consistent flow of content that resonates with your audience.
With social media scheduling tools handling the task of manual posting, you can save time and focus on creating high-quality, engaging content and connecting with your followers in a more meaningful way.
Whether you're an aspiring influencer, a small business, or a seasoned marketer, these free schedulers are the key to unlocking your social media marketing potential.
Embrace the convenience, boost your brand, and elevate your online presence with these powerful tools. Happy scheduling!