Introduction
Social media is now a crucial component of marketing plans for both individuals and companies in the digital age.
It can be time-consuming and overwhelming to manage many social media channels, produce interesting material, and keep up a continuous online presence.
But now that white label social media schedulers are available, these problems can be solved.
The idea of white label social media schedulers, their advantages, and how they can improve brand efficiency and visibility are all covered in this blog post.
What is a White Label Social Media Scheduler?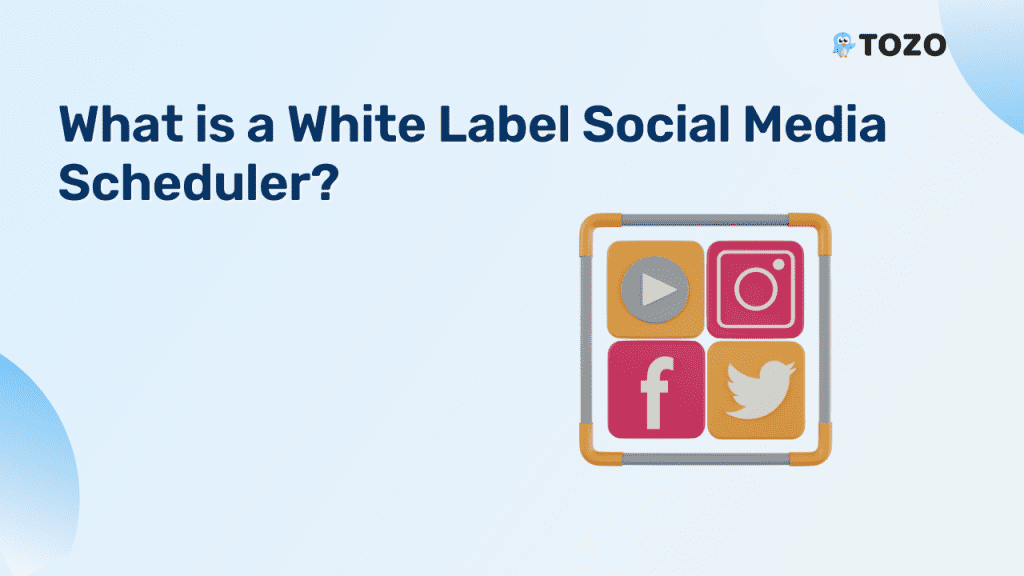 A white label social media scheduler is a powerful tool or software that enables users to manage, schedule, and automate their social media content across various platforms.
It allows businesses to streamline their social media marketing efforts, maintain brand consistency, and save time by planning and scheduling posts in advance.
The term "white label" refers to the ability to customize the tool with your own branding and logo, making it appear as if it is your own product.
This rebranding option enhances brand visibility and strengthens the professional image of your business.
Benefits of a White Label Social Media Scheduler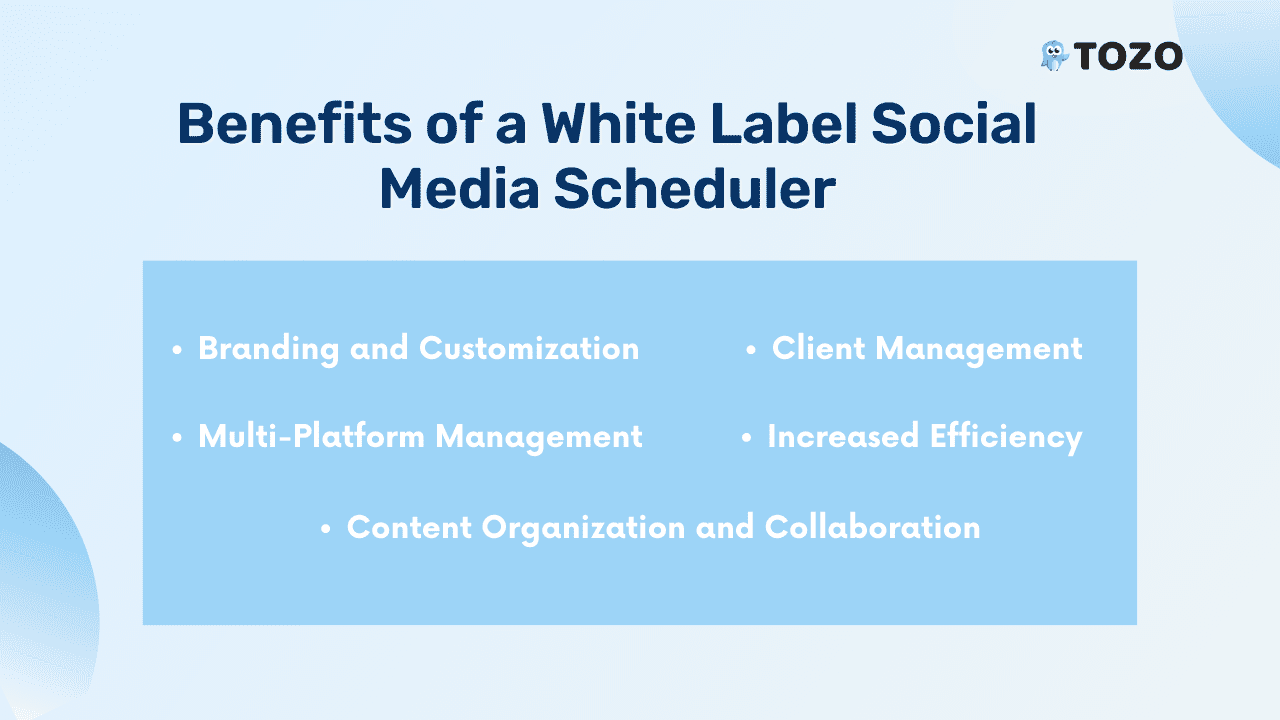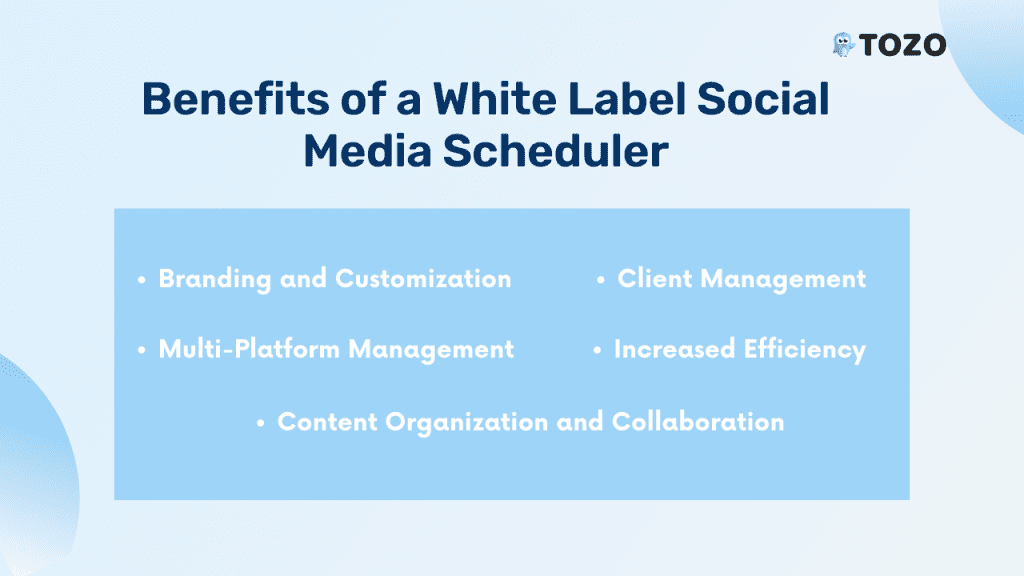 1. Branding and Customization:
One of the key advantages of a white label social media scheduler is the ability to personalize it with your brand's aesthetics.
You can customize the tool to match your brand's color scheme, logo, and overall design, providing a consistent and cohesive brand experience for your clients or users.
2. Increased Efficiency:
Manually managing social media accounts might take a lot of time.
You may plan and schedule posts in advance with a white label social media scheduler, providing a consistent flow of material without the need for ongoing monitoring.
This allows for the maintenance of an active online presence while freeing up time for other crucial duties.
3. Multi-Platform Management:
Common social media sites supported by a white label social media scheduler include Facebook, Twitter, Instagram, LinkedIn, and more.
You may simultaneously manage and publish content across several platforms by using a single application, which will save time and reduce the chance of error.
4. Content Organization and Collaboration:
A central dashboard is frequently offered by these schedulers so you can draft, edit, and check your postings.
Better content organization, team collaboration, and the ability to maintain a consistent content strategy across many platforms are all made possible as a result.
5. Client Management:
A white label social media scheduler simplifies client management, allowing businesses to easily handle multiple clients using intuitive tools.
It offers dedicated client dashboards, tailored reporting and analytics, seamless collaboration, and white label customization, streamlining the client onboarding process and enhancing overall satisfaction.
5 Popular white label social media scheduler tools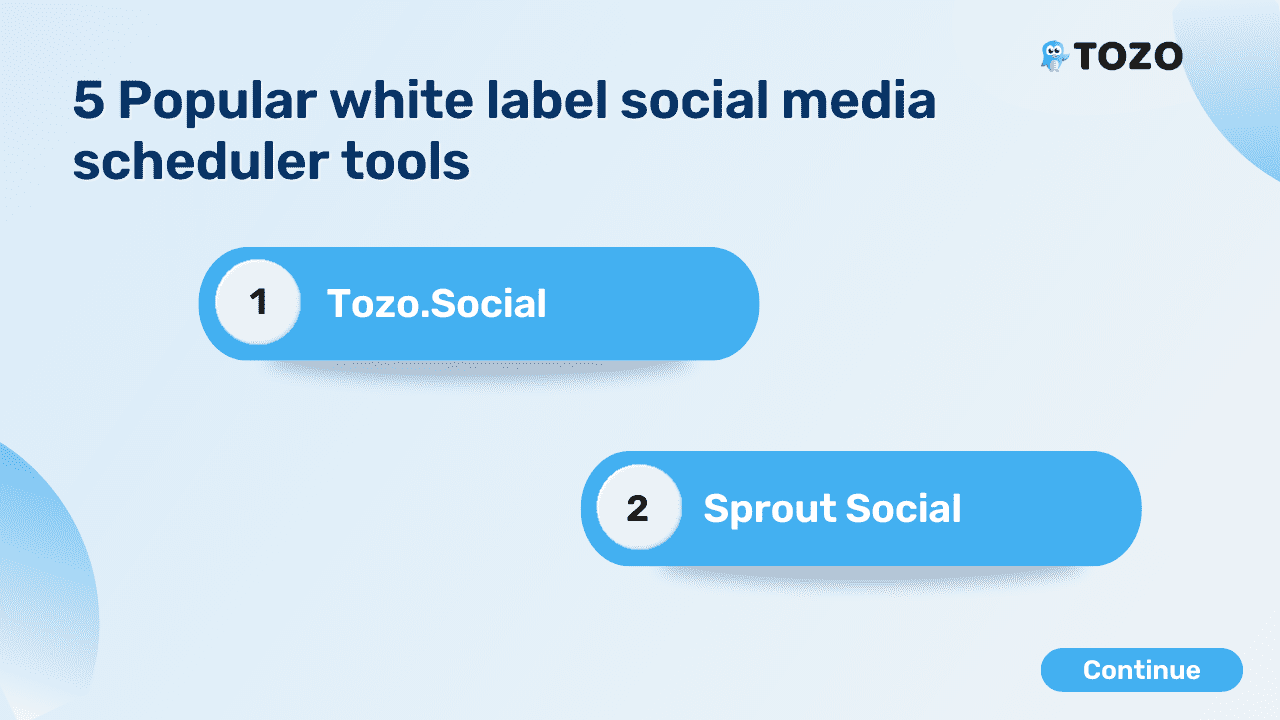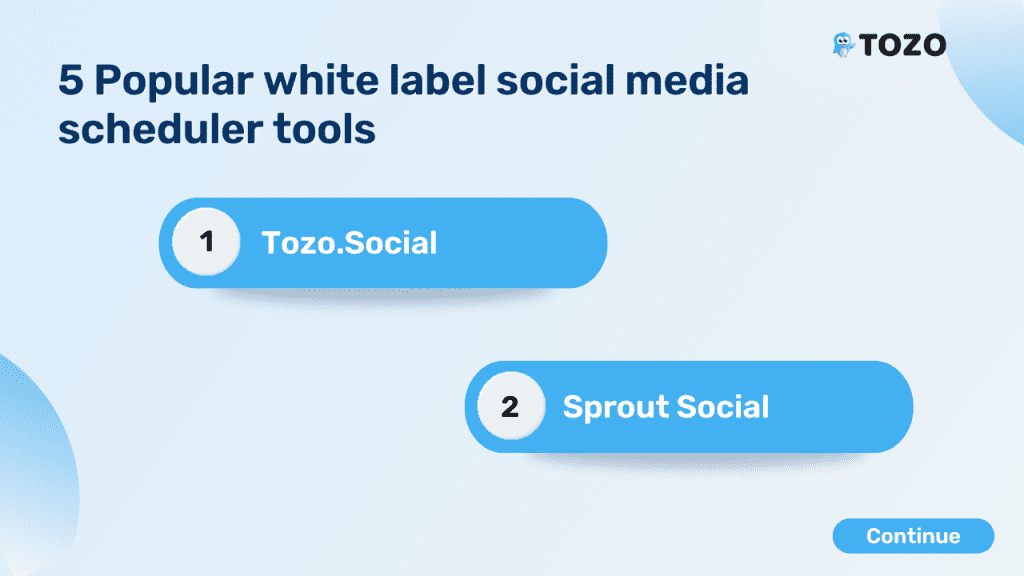 1. Tozo.Social :
Tozo.social is a white label social media scheduler tool ideal for agencies and marketers.
It enables users to customize the platform with their branding, providing a seamless experience for clients.
With support for major social media platforms, Tozo.social allows scheduling and publishing of content.
Features include content calendar management, bulk scheduling, team collaboration, etc.

Tozo.social enables efficient social media management, brand consistency, and professional services for businesses and clients.
2. Sprout Social:
With the aid of the industry-leading social media management tool Sprout Social, businesses can take control of their online presence.
Users can schedule and publish content using Sprout Social across numerous platforms, ensuring a reliable and interesting online presence.
The platform offers content selection, audience engagement, analytics, reporting, and scheduling, providing a wide range of capabilities.
Leverage Sprout Social's analytics for improved campaigns, gaining insights on audience demographics, engagement, and post performance.
The software also provides team collaboration capabilities that enable smooth team communication.
Brand Sprout Social's platform with white label solution, enhancing professional image and delivering consistent brand experience.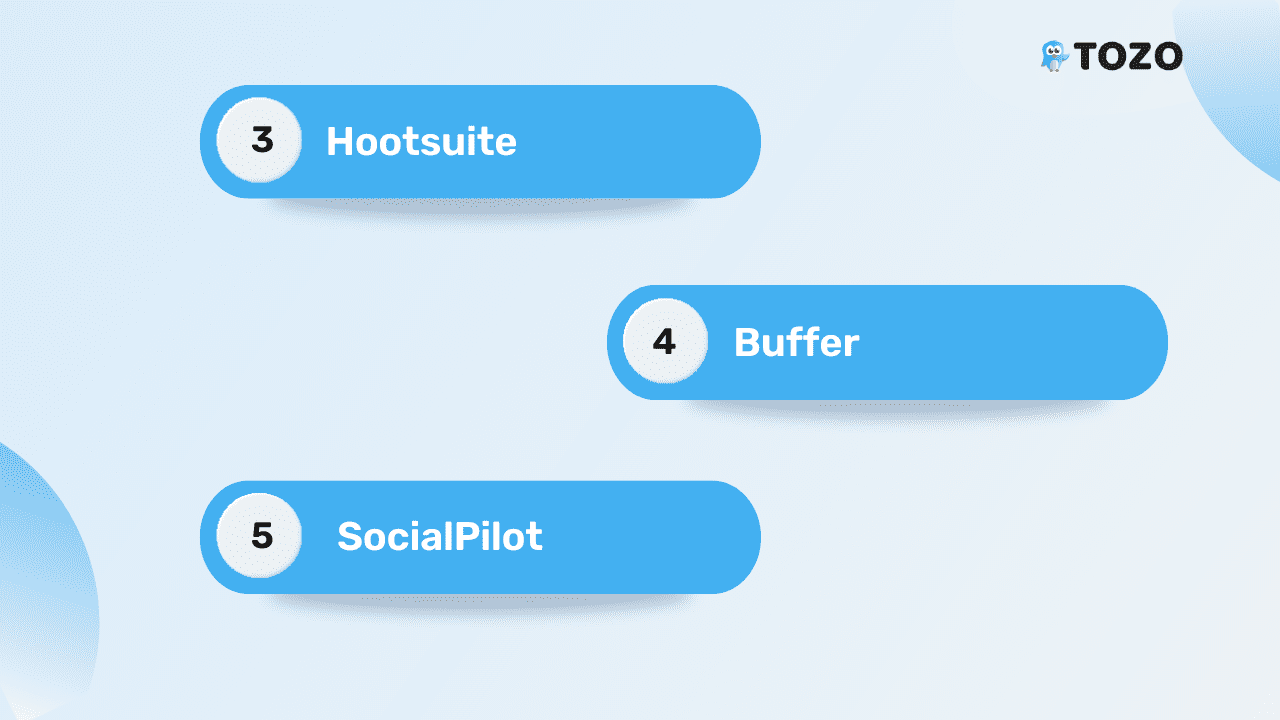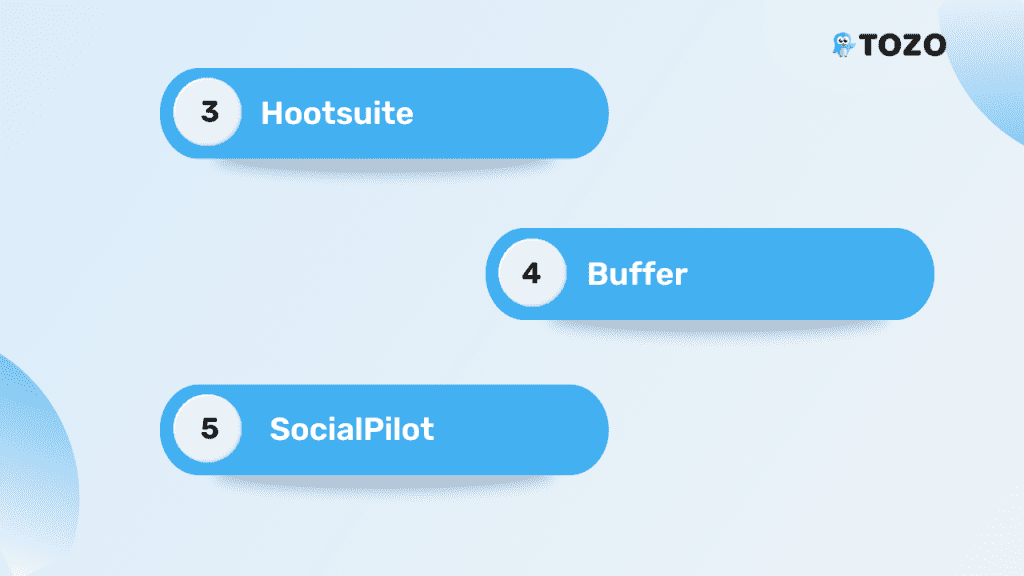 3. Hootsuite :
Hootsuite is a leading social media management platform that offers a comprehensive set of tools for businesses and marketers.
With Hootsuite, users can schedule and publish content across various social media platforms, simplifying the process of managing multiple accounts.
The platform offers advanced analytics, empowering users to measure campaign effectiveness and make data-driven decisions.
Hootsuite enables team collaboration, assigning tasks, coordinating efforts, and facilitating seamless communication within social media teams.
Customize Hootsuite's platform with white label option, offering professional, consistent experience, and strengthening brand image for clients.
4. Buffer :
Buffer is a highly regarded social media scheduling tool trusted by businesses and individuals worldwide.
With Buffer, users can efficiently manage their social media presence by scheduling and publishing content across various platforms.
Its user-friendly interface and intuitive features make it easy to plan, organize, and automate social media posts.
In addition to scheduling capabilities, Buffer offers analytics and reporting functionalities, providing valuable insights into post performance and audience engagement.
Its team collaboration features enable seamless coordination among team members, facilitating efficient workflow and content management.
Customize Buffer's platform with white label option, reinforcing brand image and delivering cohesive experience to clients.
5. SocialPilot:
A comprehensive social media scheduling tool called SocialPilot was created to make it easier for companies and marketers to manage social media.
Schedule and publish content on popular social media platforms with SocialPilot, saving time and maintaining online presence.
For performance optimisation, the platform provides cutting-edge capabilities including content curating, bulk scheduling, and social media analytics.
Through the use of collaboration tools, teams may work more effectively and efficiently together.
White label SocialPilot: brand the platform, enhance professionalism, provide clients with branded social media management.
Businesses can give excellent social media services, track statistics, and manage social media campaigns successfully using SocialPilot.
Conclusion
The way that companies and individuals manage their social media presence has been revolutionized by white label social media schedulers.
The Social Media Scheduler Tool enhances brand efficiency and visibility through customizable features, simplifying social media management procedures.
Save time, ensure consistency, maximize marketing by scheduling posts, managing platforms, and gaining insightful analytics.