Introduction
In today's digital era, social media has become a crucial component of any successful marketing strategy.
As agencies strive to enhance their clients' online presence, efficient social media management tools are essential.
While Publer is a popular choice for managing multiple social media accounts, it's always prudent to explore alternative options.
In this blog post, we will explore some excellent Publer alternatives for agencies that offer unique features and functionalities to streamline your social media management process.
What is Publer ?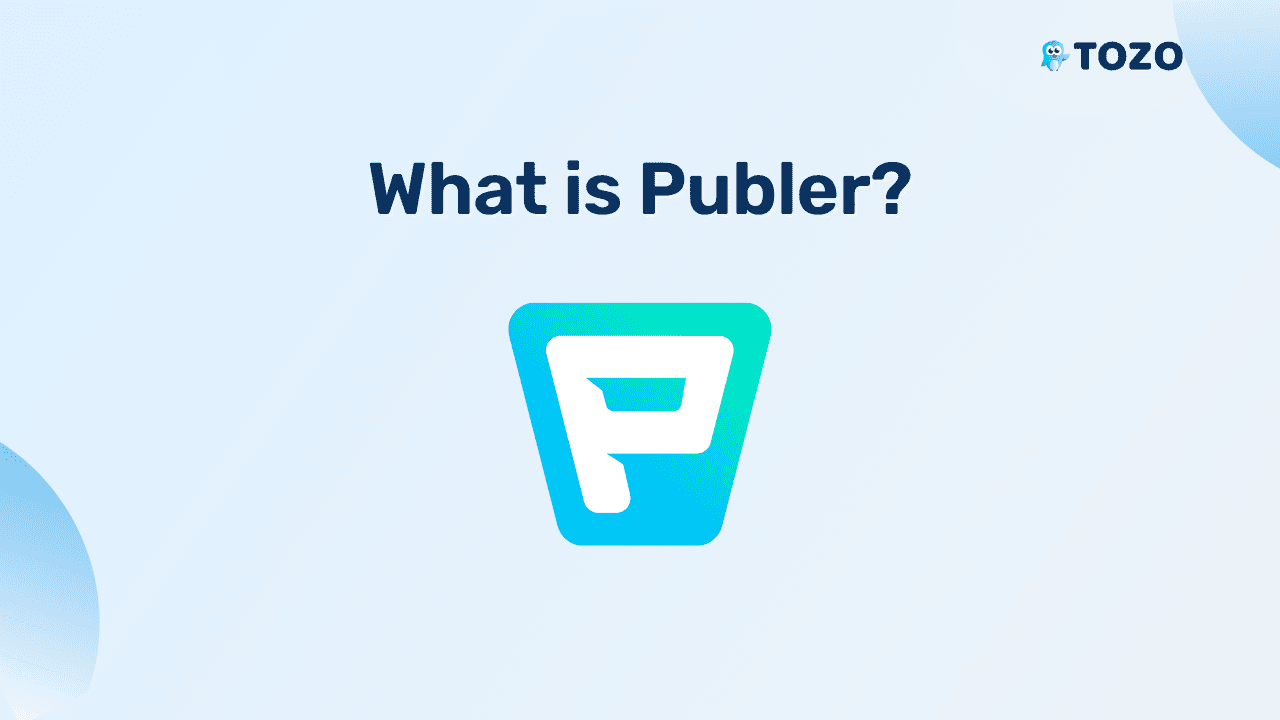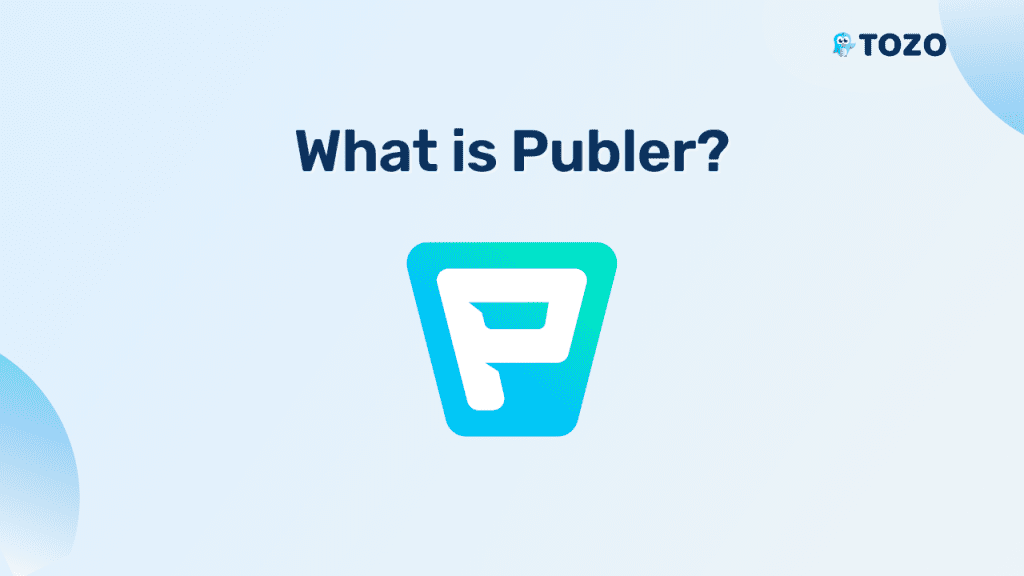 Publer is a social media management tool
It enables users to plan out and submit posts on many social media websites.
It offers tools for analytics, collaboration, and content development.
Users may effectively manage their social media presence and interact with their audience using Publer.
Top 8 Publer Alternative For Agencies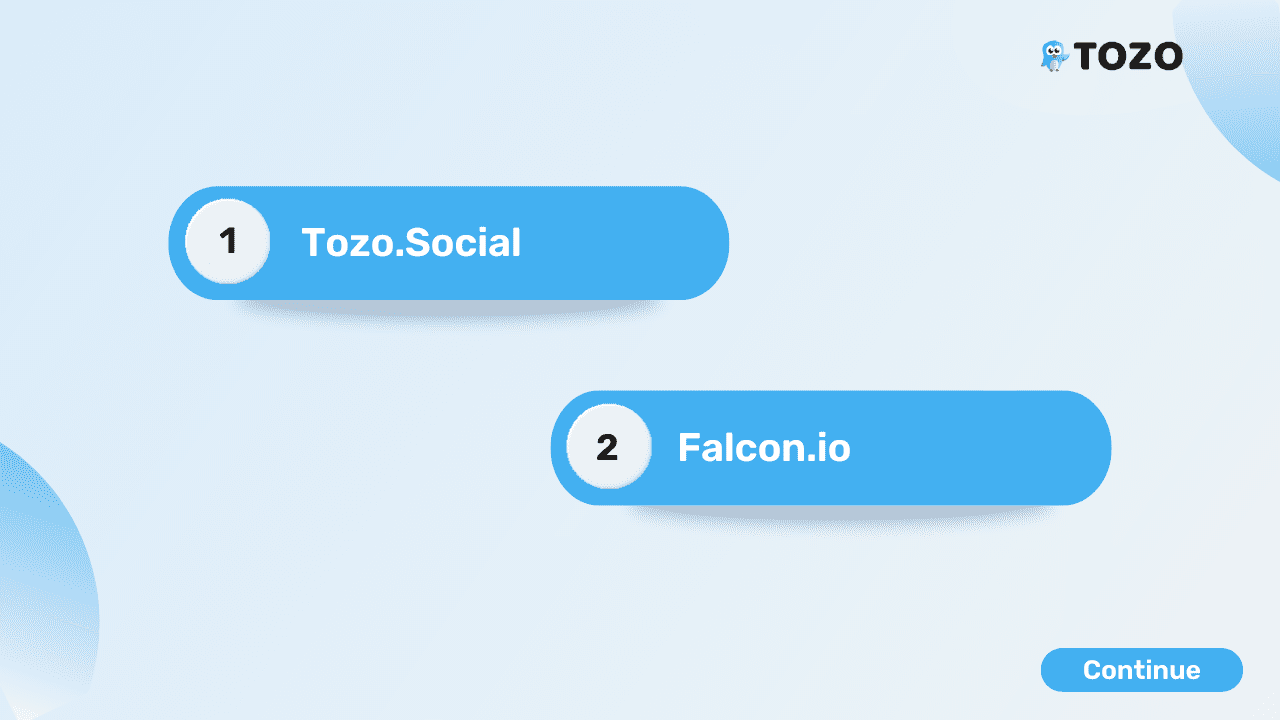 1. Tozo.Social :
It is an effective social media scheduling tool with a number of features that businesses can use to organize their online presence.
The intuitive user interface of Tozo.social is one of its main benefits.
For organizations looking for a hassle-free social media scheduling experience, the tool is a terrific option because it is simple to use and manage.
Tozo.social's selection of scheduling possibilities is another asset.
Multiple social networking networks, including Facebook, Twitter, LinkedIn, and Instagram, allow businesses to schedule postings.
Additionally, they may pre-schedule material, which helps to save time and maintain social media feeds even when team members are preoccupied with other responsibilities.
Tozo.social offers a content production tool that enables businesses to generate and customize graphics for their social media postings in addition to its scheduling options.
Businesses that wish to generate eye-catching images without using a different tool may find this to be a significant time saver.
1. Automate your social media participation and publishing to stay active online even while you're preoccupied with other chores.
2. The tozo.social team offers excellent customer support.
3. User-Friendly Interface.
4. The tool is cost-effective and offers affordable pricing plans.
5. Posts can be easily scheduled and published on several social networking networks.
2. Falcon.io :
A complete platform for social media management and customer service, Falcon.io offers agencies strong tools.
Features including content planning, publication, engagement tracking, and in-depth analytics are available.
Additionally, Falcon.io includes social listening tools that let agencies keep an eye on brand mentions, follow market trends, and outperform the competition.
The platform is a great option for businesses that value teamwork and efficient communication because of its seamless collaboration features.
1. Falcon.io enables agencies to schedule and publish content on multiple social media platforms from a single dashboard.
2. Unified inbox for social media messages.
3. Offers robust analytics and reporting features that provide valuable insights into the performance.
3. Hootsuite :
Globally, agencies employ the highly recognised and feature-rich social media management tool Hootsuite.
Agencies can effectively manage and schedule content across numerous social media platforms using its centralized interface, saving time and guaranteeing unified branding.
Hootsuite enables agencies to track brand mentions, market trends, and customer discussions in real-time thanks to its powerful social listening features.
As a result, agencies are better able to interact with their audience, reply to enquiries right away, and beat off the competition.
Hootsuite further provides extensive analytics and reporting tools that deliver insightful data on social media performance, enabling businesses to assess the success of their campaigns and make informed decisions.
1. From a single dashboard, you can plan and publish content for many social media networks.
2. To improve your online visibility, find and curate pertinent material from reliable sources.
3. Utilize thorough analytics to evaluate the success of your social media activities.
4. eClincher :
A social media management tool with a wealth of features, eClincher combines the ability to schedule content with social media listening, analytics, and team collaboration.
It features a user-friendly interface for managing numerous accounts and supports a number of social media platforms.
Post recycling, content curation, and a consolidated social inbox, which compiles communications from several networks into one practical spot, are some of the advanced features offered by eClincher.
The robust analytics and reporting capabilities provided by eClincher can also be used by agencies to assess the success of their social media marketing initiatives.
1. Schedule content for publication on several social media channels.
2. Manage and respond to messages and comments from various platforms in one place.
3. Collaborate with team members and assign tasks for seamless social media management.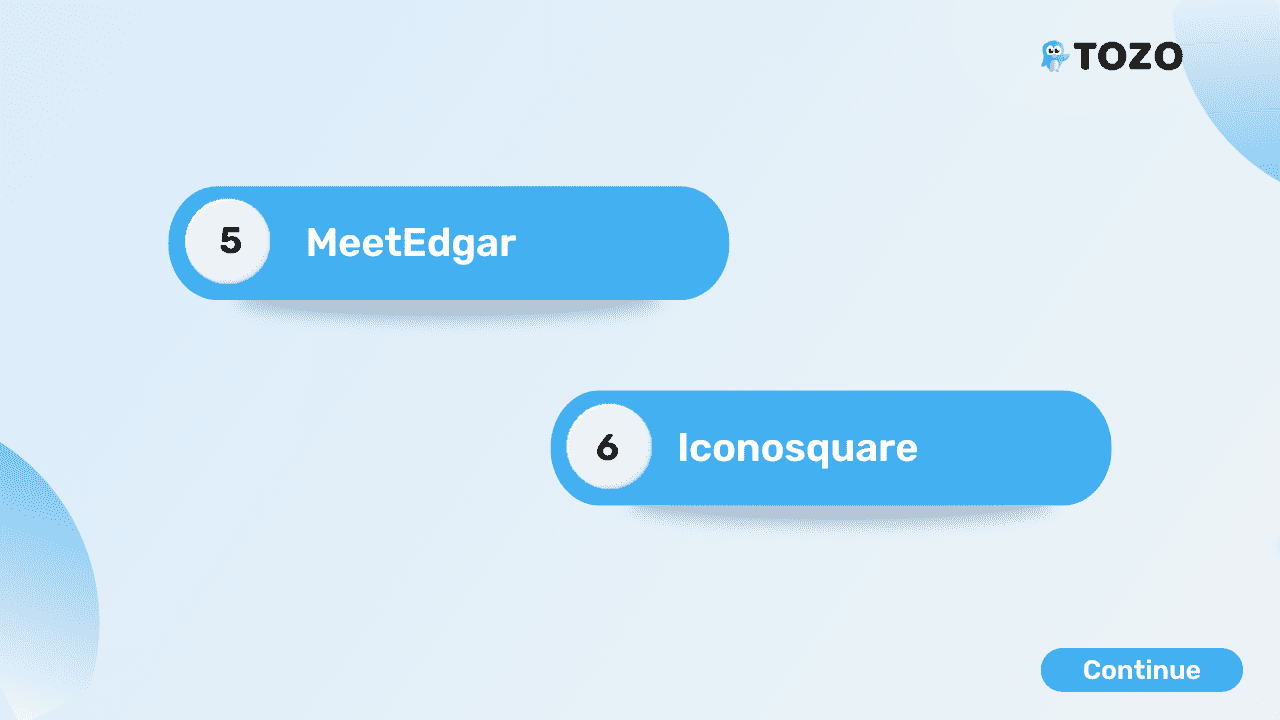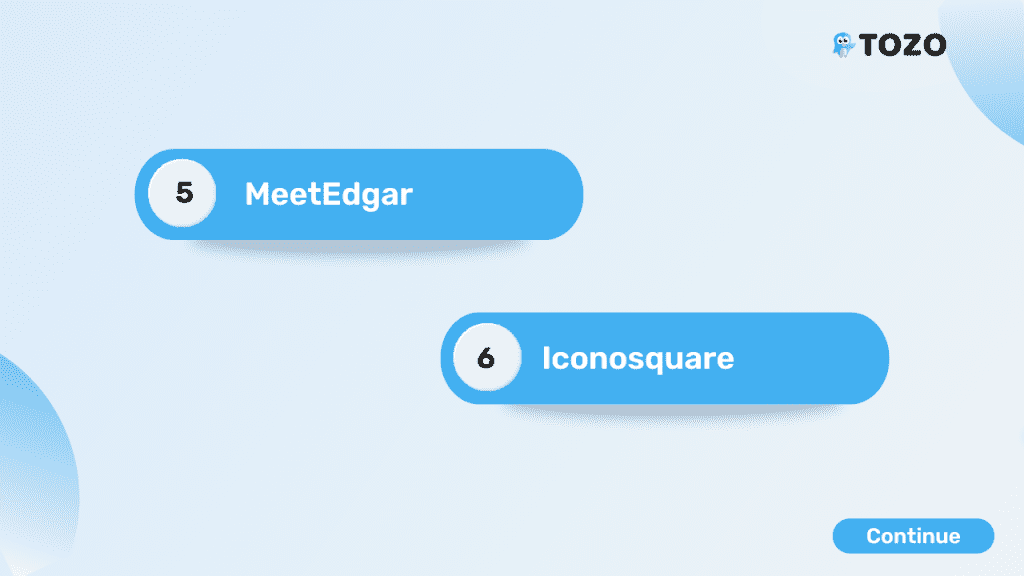 5. MeetEdgar :
MeetEdgar is a social media management tool that focuses on automating content scheduling and recycling.
It allows agencies to create a categorized library of evergreen content, which can be automatically shared on various social media platforms at scheduled intervals.
MeetEdgar's intelligent automation saves time and effort by repurposing and reposting content, ensuring consistent visibility and engagement.
Agencies can also access comprehensive analytics to track the performance of their posts and optimize their content strategy.
1. Sort and save your information into categories for simple administration and selection.
2. You may easily manage different versions of your posts by creating them.
3. Keep a well-organized content queue and a regular posting schedule.
6. Iconosquare :
Iconosquare is a comprehensive social media analytics and management platform that focuses on Instagram and Facebook.
It provides in-depth analytics to help agencies measure the performance of their social media campaigns, track follower growth, and identify top-performing content.
Iconosquare also offers post scheduling, comment management, and hashtag tracking features, enabling agencies to effectively manage and engage with their audience on Instagram and Facebook.
1. Utilize thorough analytics to learn more about the performance of your Facebook and Instagram accounts.
2. To increase your reach and engagement, monitor and analyze the performance of hashtags.
3. To find opportunities, keep an eye on your performance and evaluate it against those of competitors.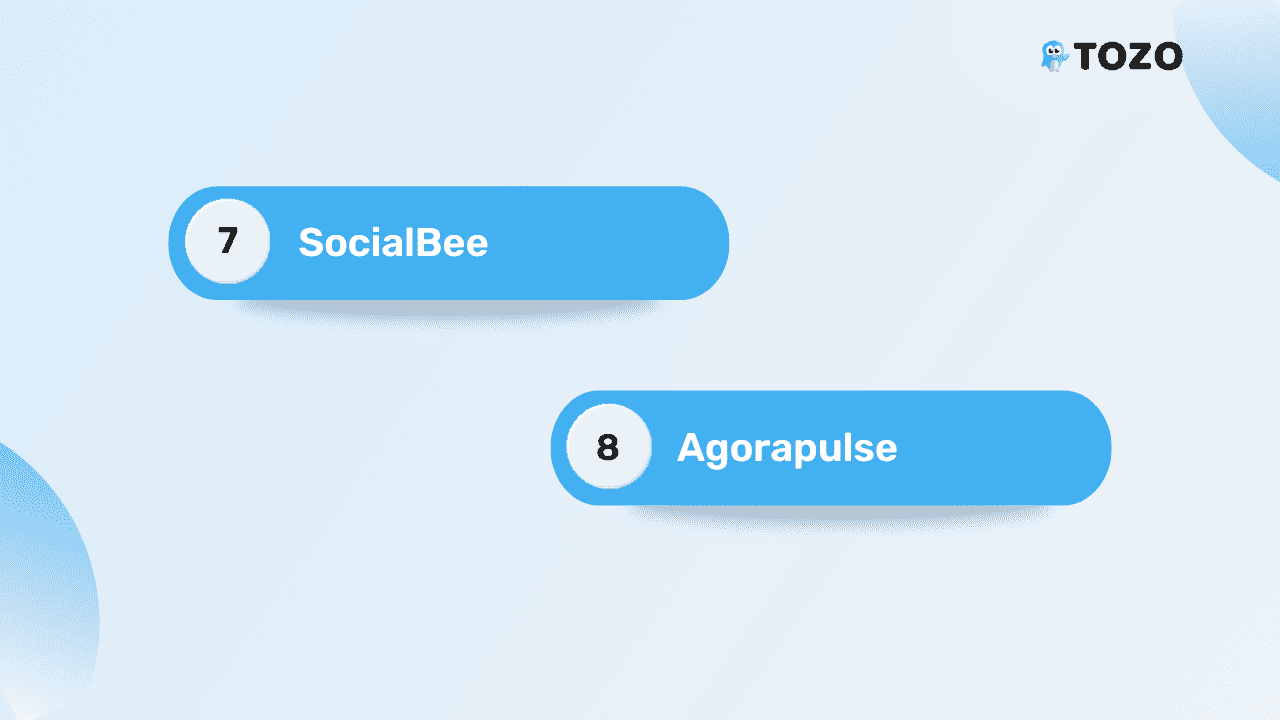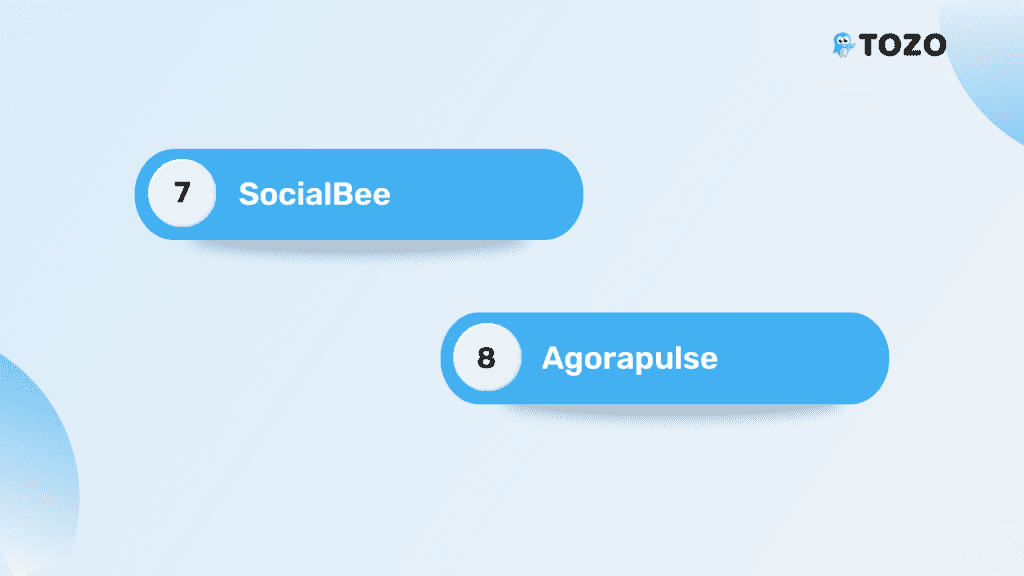 7. SocialBee :
SocialBee is a versatile social media management tool that offers features for content scheduling, recycling, and automation.
It allows agencies to categorize their content into evergreen, curated, and promotional categories, ensuring a consistent and engaging social media presence.
SocialBee also offers a content calendar, analytics, and social media inbox, simplifying the management and monitoring of multiple social media accounts.
The platform's automation features help agencies save time by automatically posting content based on predefined schedules.
1. Create categories for your material, then schedule articles in each category.
2. With the aid of a user-friendly content creator, create and customize intriguing posts.
3. For a more efficient workflow, collaborate with your team members and provide responsibilities and permissions.
8. Agorapulse :
Agorapulse is a versatile social media management tool that combines scheduling, social listening, and community management features.
It supports scheduling and publishing content across major social media platforms, including Facebook, Twitter, Instagram, LinkedIn, and YouTube.
Agorapulse's unified inbox brings all your social media conversations into one place, simplifying engagement with your audience.
The platform's social listening functionality helps you monitor brand mentions, track keywords, and stay on top of industry trends.
Agorapulse's team collaboration features enable you to assign tasks, leave internal notes, and work together efficiently.
In addition to providing comprehensive analytics and reporting capabilities, Publer alternatives empower users to measure the effectiveness of their social media campaigns and make informed decisions based on data-driven insights.
1. To track and interact with your audience on social media.
2. automated rules to handle your mailbox more effectively.
3. Plan out updates for well-known social media platforms.
Conclusion
It's critical to look at alternative technologies that are tailored to an agency's particular requirements as they work to manage social media accounts for customers efficiently.
Although Publer is a well-liked option, these Publer substitutes have distinctive features and functions that help simplify social media administration and improve teamwork within agencies.
These platforms, whether you select Tozo.social, Hootsuite, SocialBee, Agorapulse, etc offer the tools you need to plan, post, examine, and improve your social media campaigns.
To optimize your clients' social media presence, it is important to assess each tool based on your firm's requirements, including Publer alternatives, which can offer tailored solutions to enhance social media management.