Social media scrolling has ingrained itself firmly into peoples' daily lives and habits. Some of us are so dependent on it that they check their phones as soon as they wake up to see what they missed on social media.
In 2022, there will be at least 3.9 billion users of social media worldwide, up 4.8% from the previous year.
This means that all of those platforms are still very much viable and essential routes for reaching clients, which is good news for marketers.
The issue is that social media is becoming increasingly crowded, making it difficult to stand out unless you have a thorough understanding of the rivalry and new trends.
In order for you to be more prepared with your tactics, we've identified the biggest social media trends to watch out for in 2022.
It's crucial for you to look at some of the top digital techniques since, before you start browsing, you should be aware that every trend has the ability to increase engagement rates, and some of them might be helpful for you.
Social Media Treands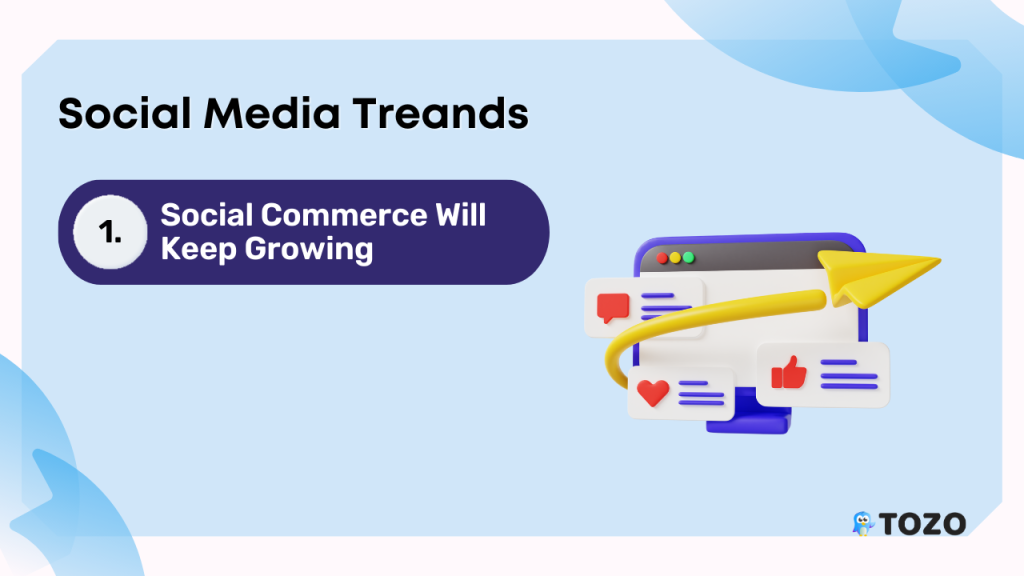 1. Social Commerce Will Keep Growing
Facebook, Instagram, and Pinterest are just a few of the social media sites that brands have long utilised to market their goods. But by 2022, it will be commonplace to order goods directly from social media.
The days when only cutting-edge brands would employ it are over. In fact, according to eMarketer, the value of the social commerce sector will reach $80 billion by 2025.
Social networks are constantly changing to become retail platforms, from shoppable posts to Instagram Storefronts.
In 2022, brands and marketers will keep using these and integrating social commerce into their sales strategy.
Therefore, even if it's just for your most popular things, make sure to give this some serious consideration when creating your user experience.
After all, your objective should be to provide a frictionless purchase experience, and forcing your target audience to go to a website while they are on social media may eventually become one too many clicks for them.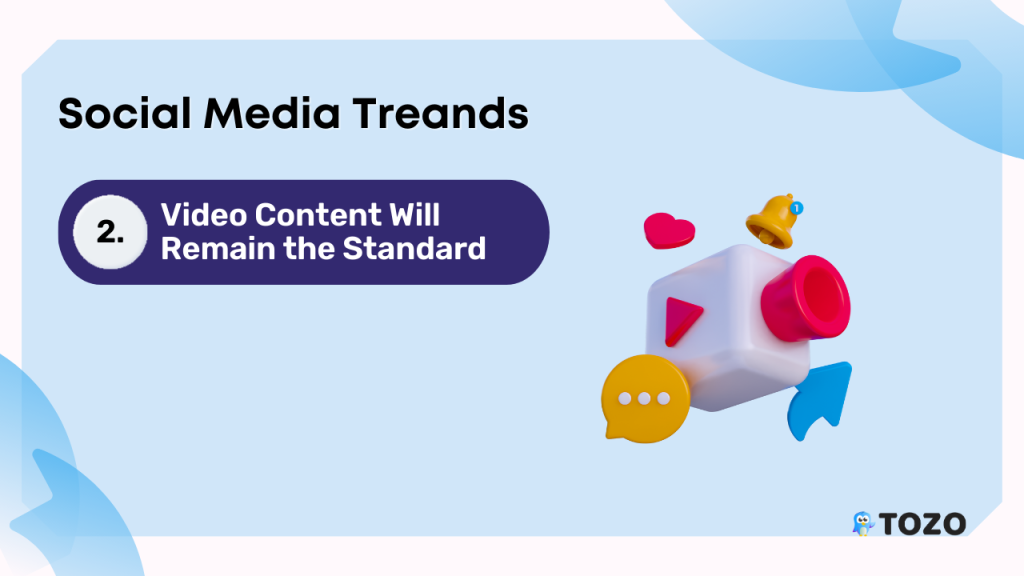 2. Video Content Will Remain the Standard
Expect video content to continue to rule the social media landscape now that TikTok is available.
It is obvious that consumers will still be primarily interested in consuming video content since the average person will spend about an hour watching videos on social media in 2022.
Producing videos doesn't have to be expensive or time-consuming. Simple, brief movies can be made using cost-effective video marketing platforms like InVideo, Powtoon, and StoryXpress, which are excellent alternatives to pricey programs like Vidyard and Wistia.
This is why it's critical for marketers to spend money producing interesting, high-quality social videos that will draw viewers in.
Comedy clips, instructional videos, motivational tales, and beginner-level how-to manuals are some of the most well-liked content types.
If you want a successful outcome, you can also hire a seasoned explainer video production company to make a quick film about your brand that you can pin to your social media feeds.
To develop posts and other visual aids, enlist the assistance of a seasoned social media designer. As a result, when people visit your social media page, they will know what your company is all about.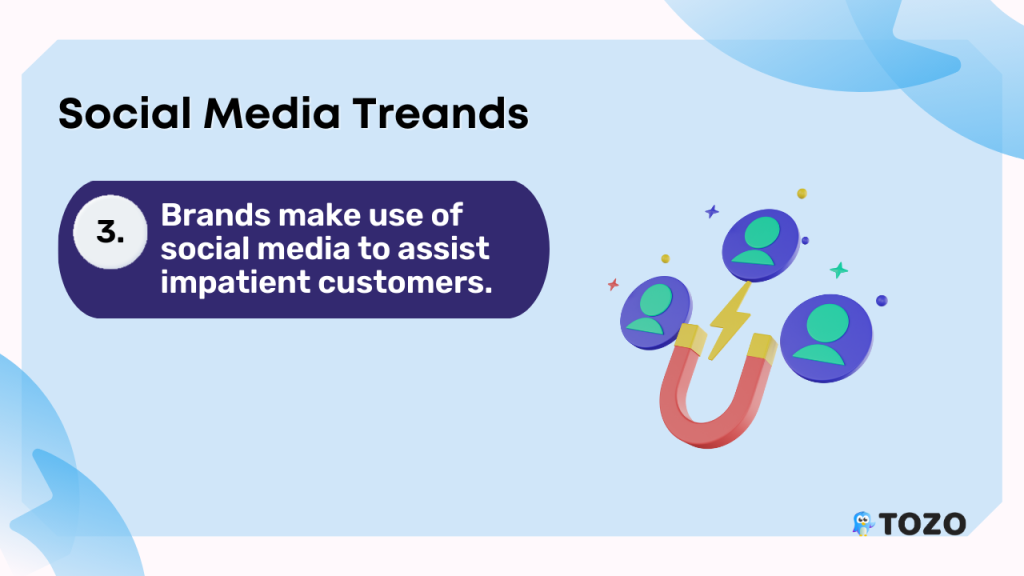 3. Brands make use of social media to assist impatient customers.
Consumers in today's market lack patience. They need a solution to their issues right away.
According to a HubSpot survey, 90% of consumers expect an immediate response from a business when they have a customer support inquiry.
Numerous firms now provide customer service and support through social media in response to this desire for quickness and individualised care.
According to Zendesk, the number of social media tickets for customer care climbed by 20% between 2020 and 2021.
As of 2017, 33 percent of Americans had complained to a brand on social media.
According to a survey conducted in 2022, 75% of Twitter users, 59% of Facebook users, and 34% of Instagram users interact with brands on these networks. About half of them are asking for help with customer service-related concerns.
While some may assume that these public concerns are lowering the value of the brand, many businesses act quickly to respond and seize the chance.
Responding demonstrates to customers that a firm is actively interested in their feedback, which can increase customer loyalty.
Nearly 50% of Americans think better of companies who use social media to address customer care issues.
What really constitutes a quick response on social media?
According to a Sprout Social survey, 22% of consumers desire a response in the next one to two hours, while a further 22% stated they expect one in the next two to twelve hours.
Only roughly half of brands, however, are delivering on response times that are up to par.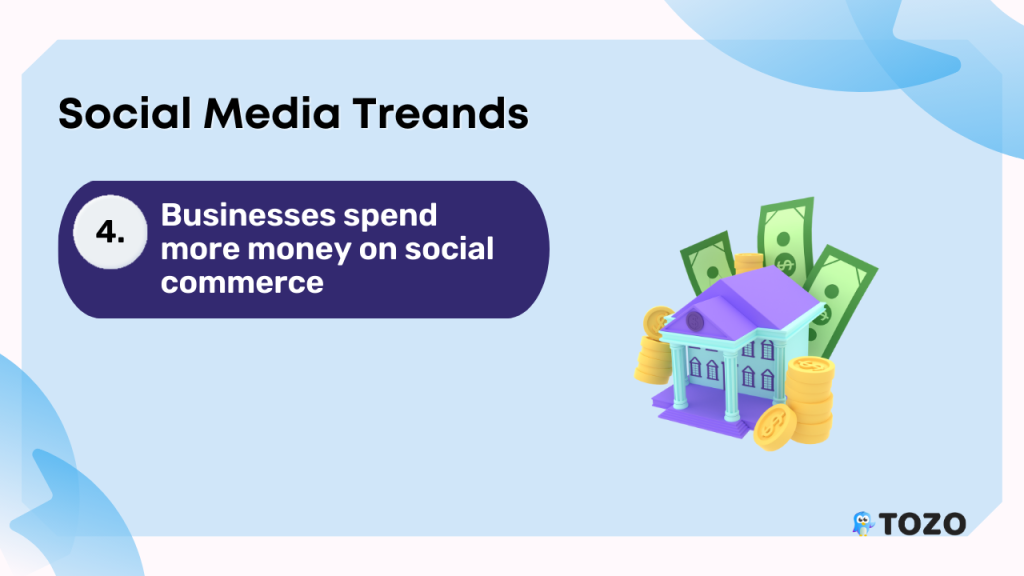 4. Businesses spend more money on social commerce
Social media platforms are used for social commerce, which is the direct purchase and sale of goods and services.
All of the main social networks have made investments in social commerce, and according to this pattern, they will keep doing so.
In accordance with research done by The Harris Poll for Sprout Social, 73% of firms currently engage in social commerce, and 79% plan to do so over the next three years. Due to this development, Sprout built specific connectors with Facebook Shops and Shopify.
According to Insider Intelligence, social commerce will expand over the coming years. There will be 97.2 million social commerce consumers in the US in 2022, or 38.2 percent of all internet users.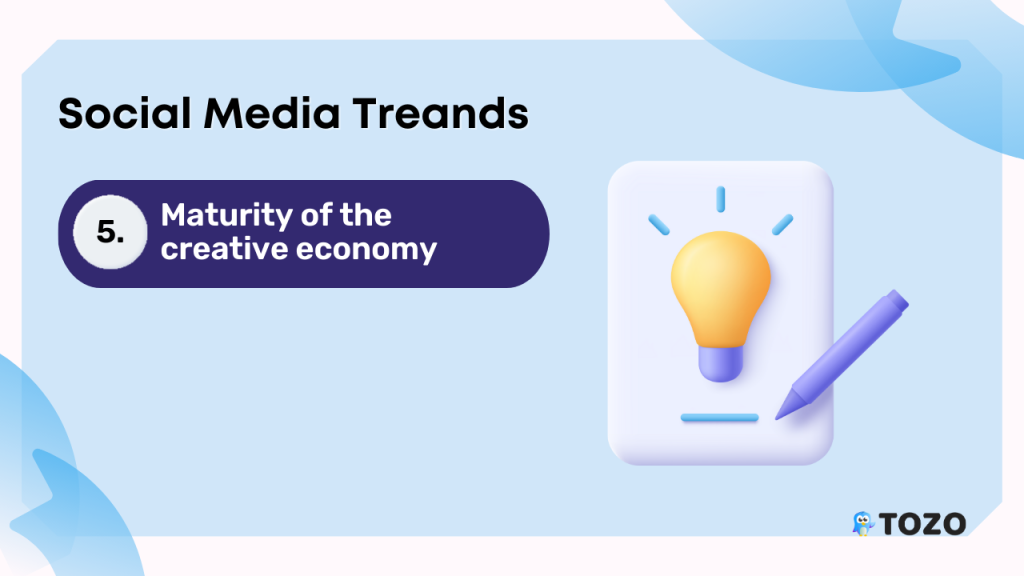 5. Maturity of the creative economy
It's a great time to be a creator.
TikTok, Snapchat, Instagram, and YouTube all made investments in their individual creator funds.
Over 50 million people consider themselves to be creators globally, according to a new study on the creative economy.
Although not all creators use social media, those who do contribute to the predicted $13.8 billion influencer market.
More strategies are accessible to brands as the creative economy matures. Smaller firms have a chance to expand their profile because micro-influencers with less than 15k followers are benchmarked to have greater engagement rates on Instagram, YouTube, and TikTok.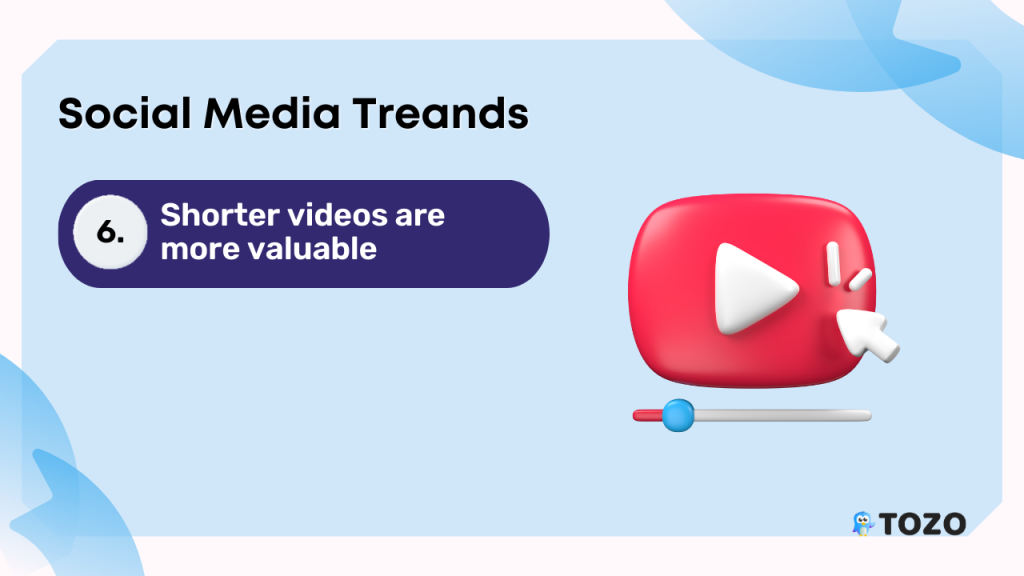 It's hardly surprising that short-form video will be a social media trend in 2022 given the growth of TikTok and Instagram's own declaration of the value of video.
All the main social media networks now provide Stories videos in some capacity.
According to a study, 93% of the brands surveyed reported gaining new clients as a result of social media videos, and according to another business, more than half of viewers will stick with a video for the entire duration if it is under a minute long.
Thank goodness, companies have easier access to shorter movies than to lengthy ones.. The authenticity and low-budget aspect of Stories and TikTok videos contribute to their greater consumer appeal.
Learn five ideas for making Instagram videos and how to set up your own video marketing strategy to get more active in short-form videos.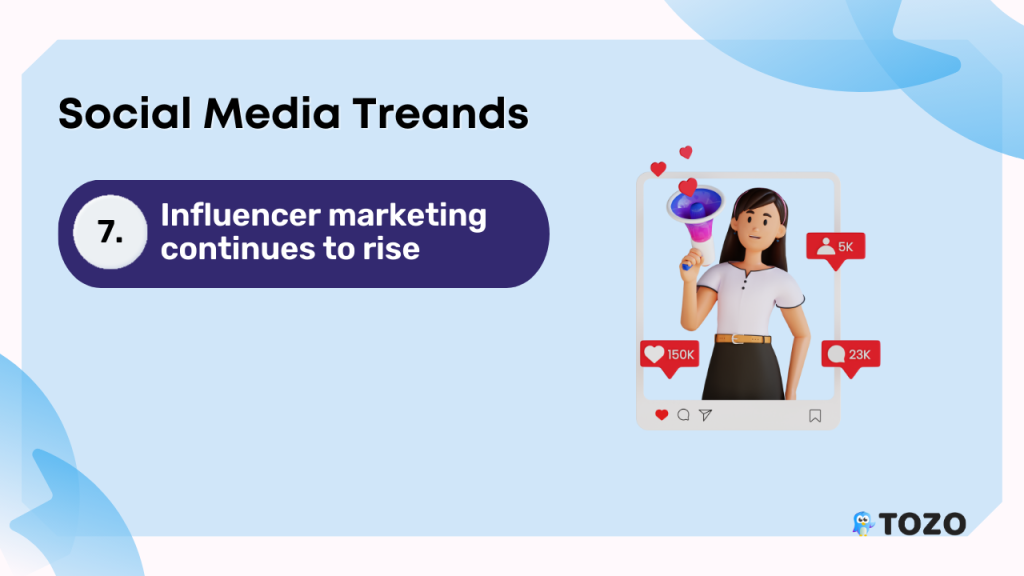 7. Influencer marketing continues to rise
Although not new, influencer marketing isn't going anywhere. Influencers are constantly pushing products on social media.
Influencer marketing may not be as expensive as other types of marketing or advertising, but it still produces results. According to a poll by Influencer Marketing Hub, 90% of marketers said influencer marketing was successful.
Another social media site that provides influencer marketing is LinkedIn. LinkedIn offers Creator Accelerator, a program to assist creators in building their communities, despite the fact that the two are not frequently associated.
This demonstrates the company's desire to invest more in creators and influencers.
Companies may achieve more than just lead generation by utilising influencers. Influencers can aid in fostering client loyalty and engagement.
Conclusion
Over the ensuing two to three years, it is anticipated that social media usage would continue to rise.
In addition, despite growing competition, social media behemoths like Facebook, Instagram, and Snapchat are undoubtedly here to stay.
Users are staying engaged with these major social media sites for longer lengths of time every day thanks to new features like ephemeral material, short-form movies, and augmented reality.