What Is the Importance of Instagram Stories?
Instagram stories are important because they allow individuals to interact more personally and intimately. Stories are a visual and engaging method for people to share their lives and experiences with others.
Unlike traditional posts, stories tend to feel more genuine and immediate, which can help the storyteller and the audience form a stronger bond.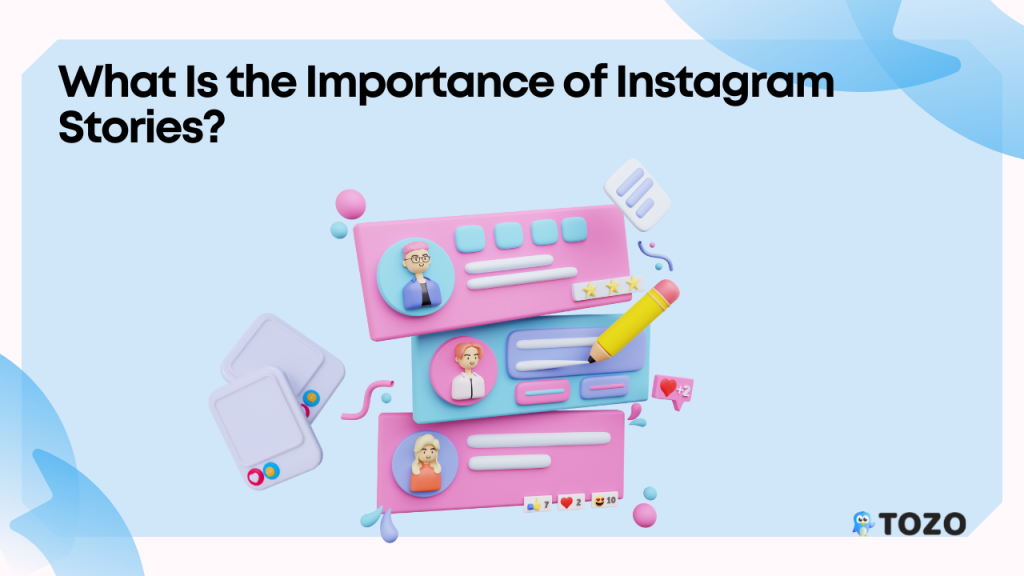 The majority of Instagram users use stories as an 'exclusive' feed for their devoted fans. Instagram highlights any updates on Story first, creating a sense of urgency and making them a must-see sort of material that is also a kind of privilege.
Audiences will feel as if brands are speaking directly to them on a more intimate level in this manner.
Furthermore, because the content is 'time-limited,' it easily arouses audiences' curiosity and enthusiasm.
Businesses may do a lot to take advantage of this format in their marketing plan because of the time-sensitive nature and creative freedom it provides.
1. Go live | Instagram story
Live videos are an excellent method to engage your audience immediately.
Users can ask questions, comment on your live video, and create real-time engagement on Instagram Live.
When you start broadcasting live, most users will receive a push notification.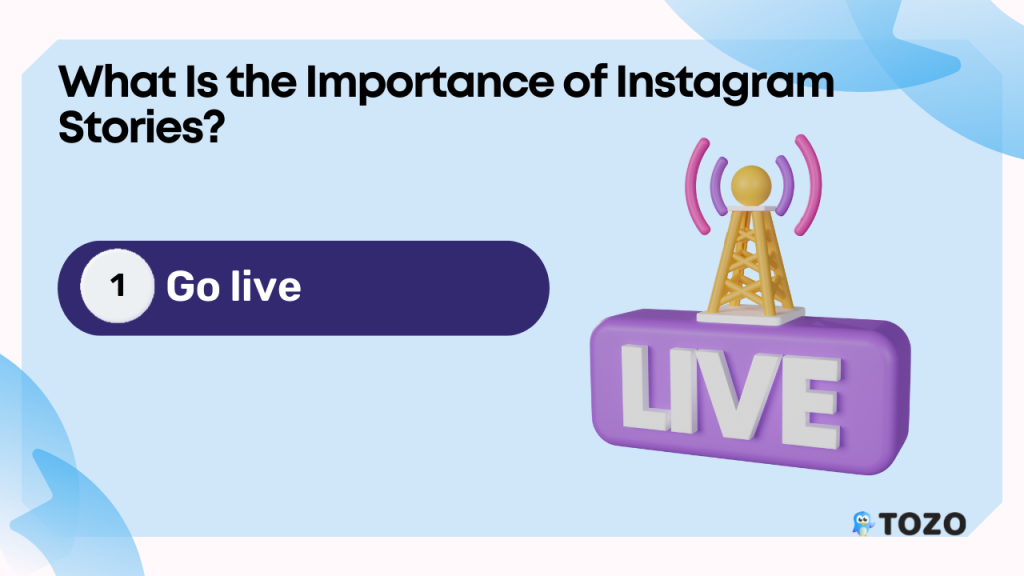 This is a fantastic way to increase participation.
When you're done with the live video, it'll automatically display on your Instagram Story. This permits individuals who were unable to attend in person to view the video afterward.
It will be viewable for 24 hours before being archived, just like any other Instagram Story.
Check out our video on the topic below for additional information on live video best practices.
2. Take a Poll of Your Followers
You may ask users a question with two responses using the Instagram polling sticker. With this sticker, there's also a gamified element because the follower may see the results of what others selected as soon as they answer.
The feature makes use of our natural urge to express ourselves and be heard. Additionally, Instagram claims that the polling sticker increased 3-second video views in 9 out of 10 beta ads.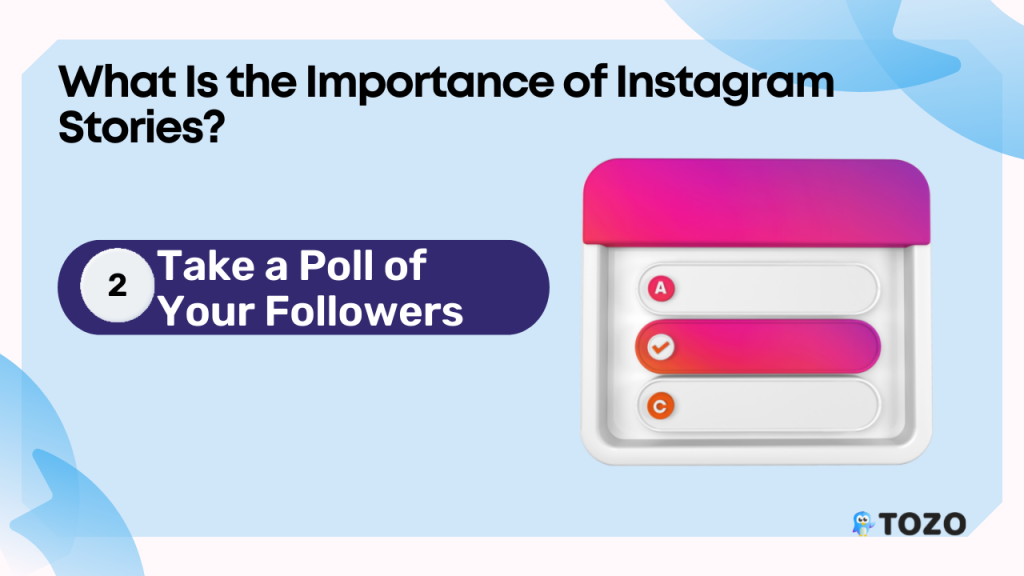 You can also utilize this Instagram story idea to conduct audience research, such as asking what they want to see more of or soliciting comments on a recent product or service release.
Change the response to something other than yes or no to make your poll more unique and aligned with your brand.
3. Arrange a contest or a giveaway | Instagram story
Using Instagram Stories to host a contest is a quick method to increase engagement, develop your following, and entice your ideal clients to follow your company account.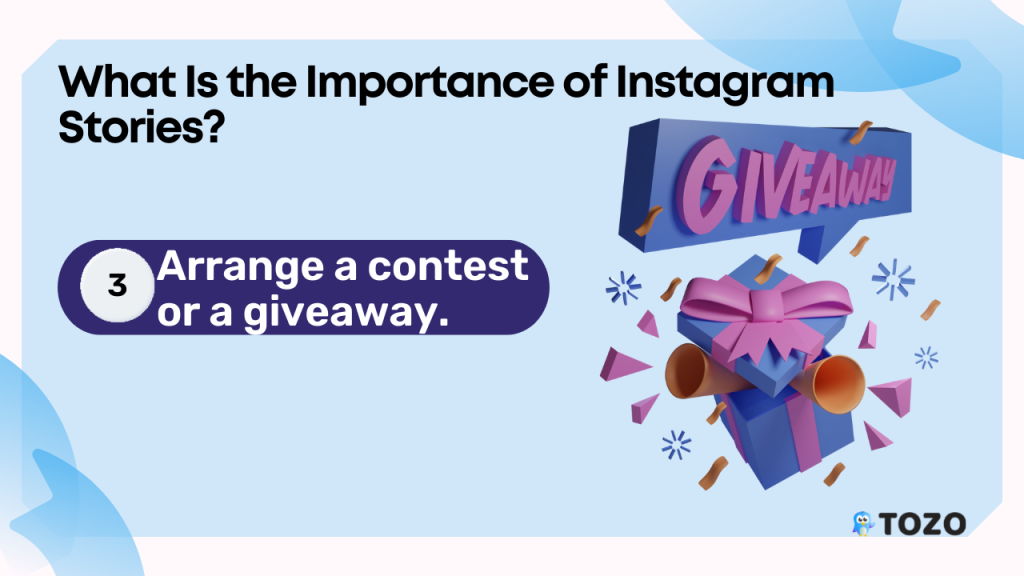 Here's a rundown of how an Instagram Stories contest works:
To join your contest, ask your followers to post a story about something specific—whether it's them holding your product, making a funny face, or anything else you want.
They should tag your account in that same Instagram story (both by tagging your Instagram profile and by using a specific branded hashtag). They can only tag you if they follow you, which is why this is a terrific strategy to get more followers.
To choose a winner, you'll need to stay on top of your notifications (you'll get a notification every time someone tags you in an Instagram story) and keep track of everyone who has entered.
Remember that their stories will vanish after 24 hours, so you should take screenshots to keep track.
That concludes our discussion. Again, it takes a little extra effort (and is safer than utilizing bots for growth), but it can be well worth it.
4. Conduct a Reviews
Potential customers might learn more about a product by watching product reviews on Instagram Stories.
Reviews can also aid in the development of trust between you and your target audience. Here are a few pointers to help you get started with posting product reviews to your Stories:
1. Keep it short and sweet:
Give a brief description of the product and your thoughts about it.
2. Include captivating visuals:
This will help to draw people's attention to your review and make them more likely to watch it.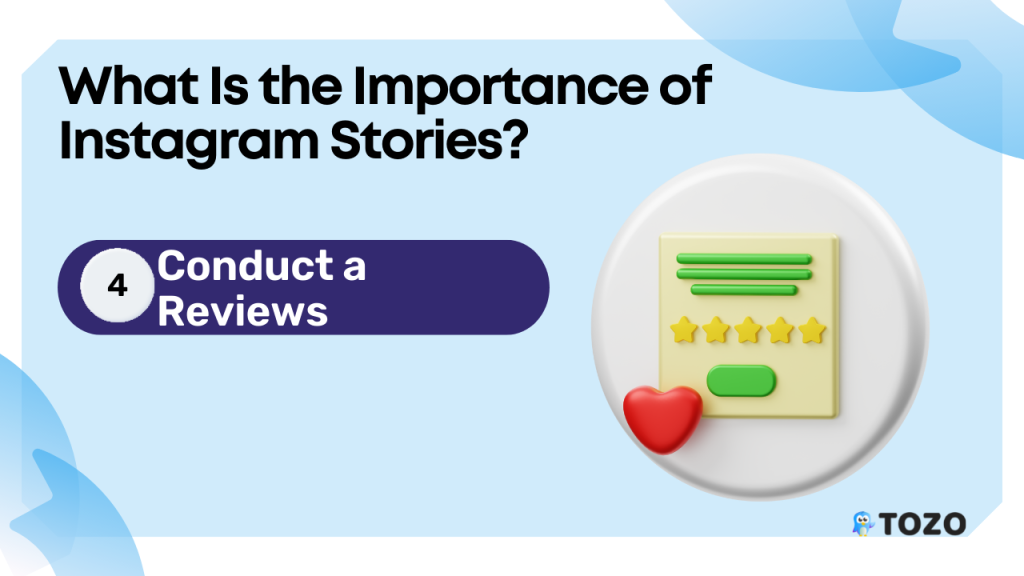 3. Include a call to action:
Provide a link to where people may buy the product to encourage them to learn more about it. You may even throw in a coupon code to sweeten the sale!
4. Be genuine:
Tell your audience your real feelings and views regarding the product. It will be obvious if you aren't sincerely interested in the goods, and people will be less inclined to listen to your review.
5. How-tos and tutorials
How-tos and tutorials are a great way to learn something new. It all comes down to giving your fans useful and helpful information.
What better method to educate your audience than to create a tutorial? Quick ideas and actionable recommendations are ideal for your Instagram Story.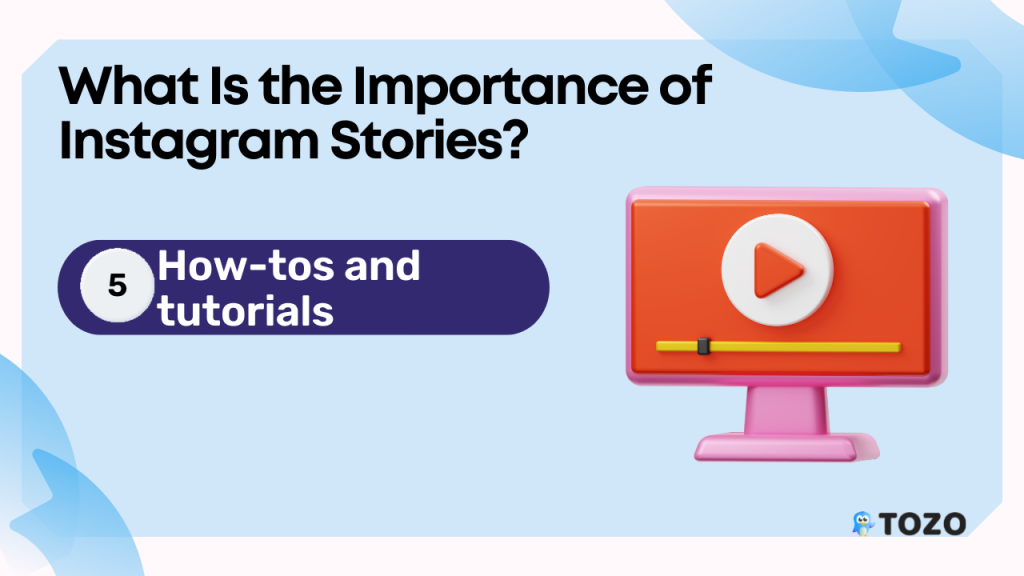 Popular makeup tutorials by beauty bloggers and influencers are excellent instances of this (see above). It's a fantastic method to interact with followers and provide them with useful information they can apply in their daily lives.
And when you combine that with a before and after Instagram post, you can make a pretty cool Story—which leads us to.
6. Share a thought or quote | Instagram story
People shout out or tag other influencers on Instagram stories for a variety of reasons. Building relationships with other influencers is one factor.
You're simply giving someone a shout-out and asking your followers to check them out when you shout out someone on your story.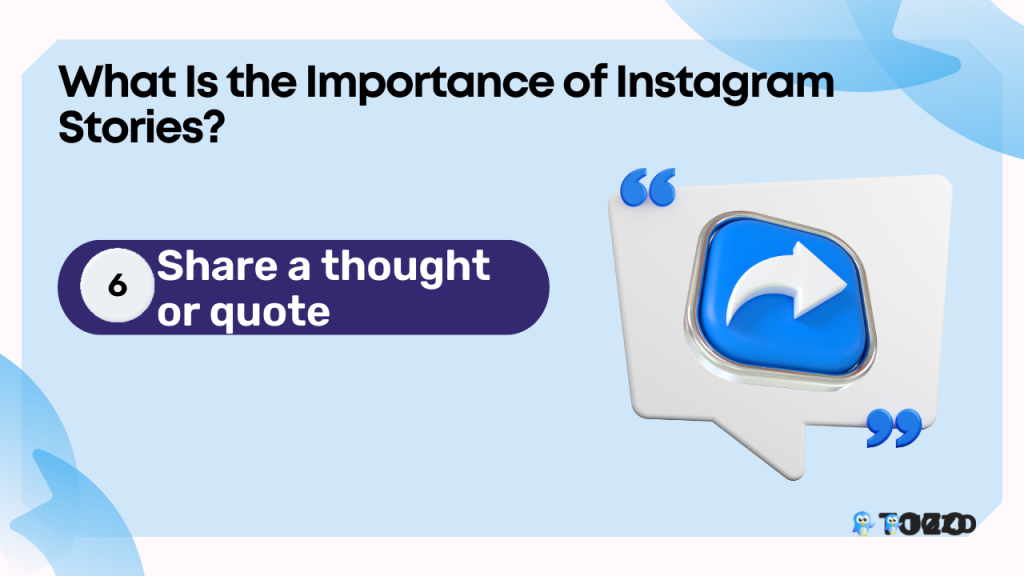 This might assist introduce your followers to new content providers they might enjoy, as well as help you develop a relationship with the person you're tagging.
You may help to build a network of individuals affiliated with you and your brand by tagging other influencers in your stories. In the perspective of potential partners or consumers, this might increase your visibility and credibility.
7. Try a "Ask Me Anything" session.
Instagram Stories are a fun and quick way to ask questions and gain comments from your followers.
They're especially useful for AMAs (ask me anything) because they allow your fans to submit anonymous queries.
You can also respond to questions as they come in, which is a fantastic way to start a dialogue.
Create a new story and click the "Ask me anything" sticker to begin an AMA on Instagram Stories. After you've written your question, share it with your followers.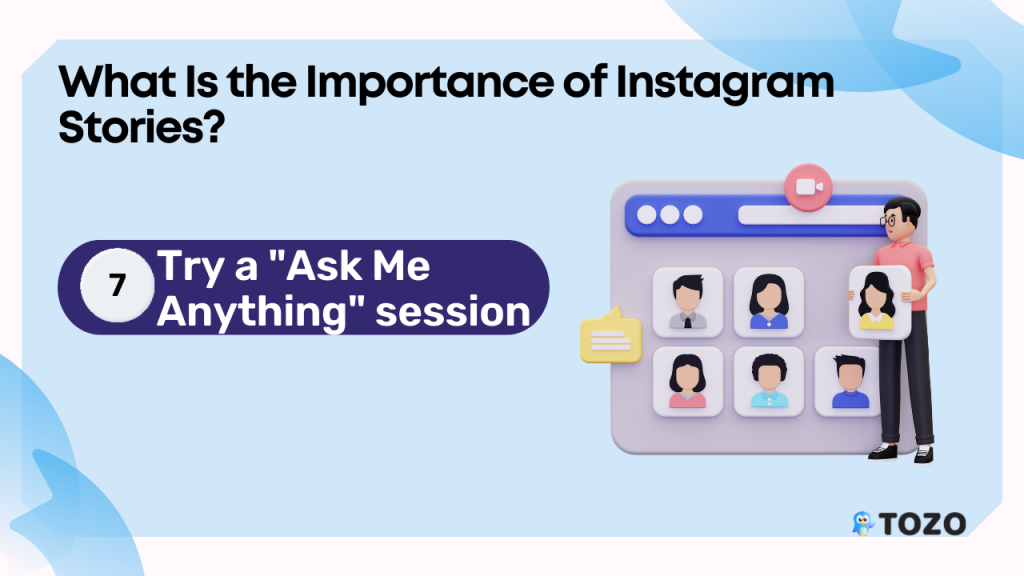 As questions are submitted, you can respond immediately in your tale.
You may use the poll sticker to generate fast polls with your followers if you want to be more interactive with them.
Simply place the sticker on top of your narrative and type your question. Your followers can then vote on their response, with the results shown in real time.
Polls are a terrific method to obtain feedback from your followers on anything from what type of material they want to see more of to their thoughts on a new product or service.
8. Meme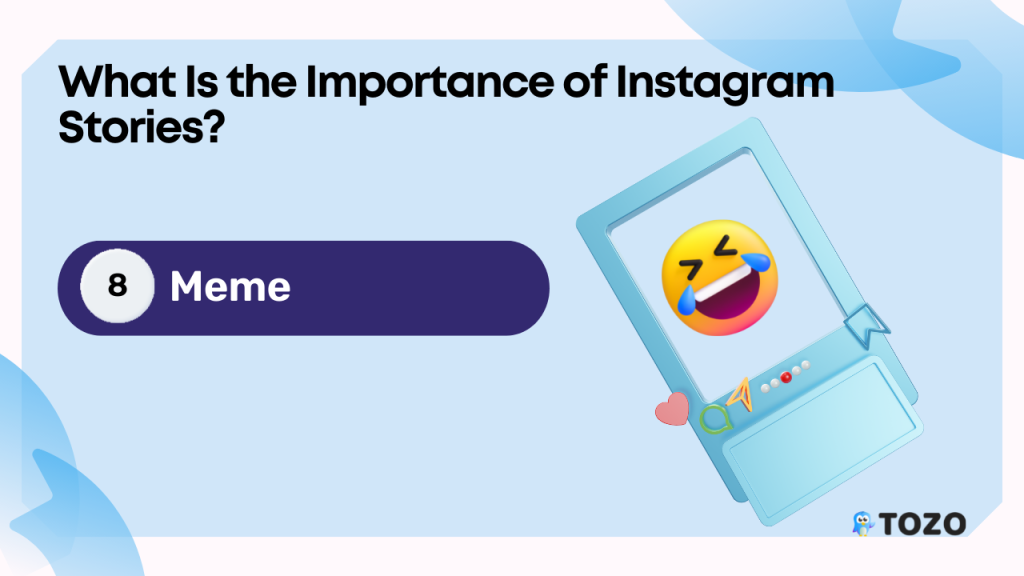 WHO DOESN'T ENJOY A GOOD MEME? Memes are a fun method to spread information and engage people. Memes are popular because they are amusing, thought-provoking, or #relatable. You have a better chance of getting your message across and gaining engagement if more people see your meme.
9. Congrats on your achievements (big and small)
A success story is something that everyone enjoys hearing about. This may be as basic as sharing video testimonials from consumers or using Instagram Stories to share bite-sized case studies.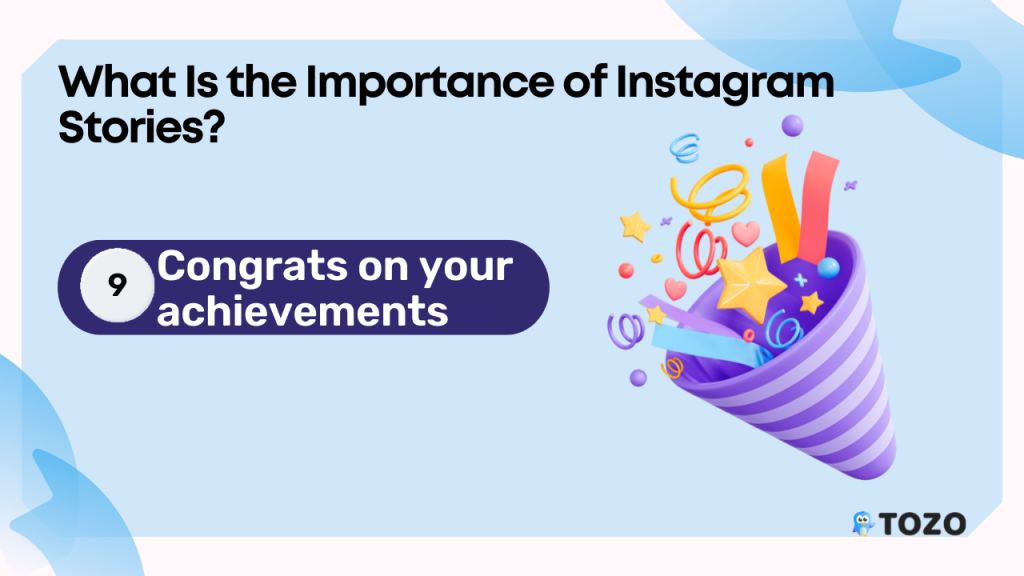 Before and after images, such as the ones seen below, are also solid bets. Make sure you highlight your brand's key selling features and how your audience may profit from them.
10. Participate in a Story Challenge or Trend
Some people participate in Instagram challenges to meet people with similar interests. If you're interested in photography, for example, you could enter a competition in which contestants must submit their finest photos.
This allows you to share your work with others, as well as see what other photographers are up to and receive feedback.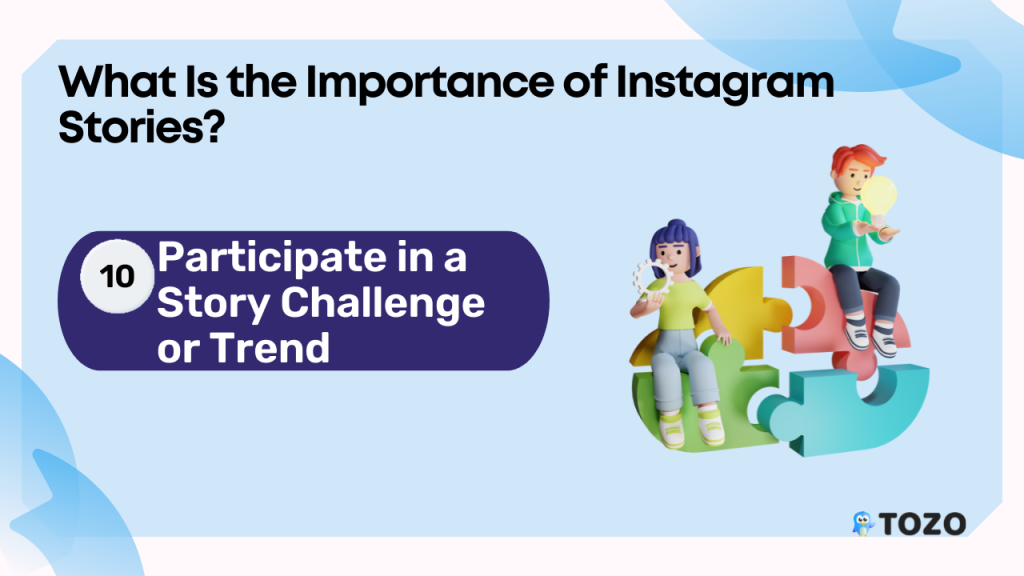 People may also participate in challenges to demonstrate their talent or inventiveness. People can share their work with a big audience and potentially gain new followers by participating in challenges.
Some challenges reward players with prizes or other incentives.
Conclusion
One of the most effective methods to promote, sell, or interact is with an Instagram Story. You may express your creativity while attracting attention with a variety of functions.