Social media is where everyone spends the most time online. The majority of individuals in the world use a variety of platforms to stay connected to others and stay up on trends.
Its unprecedented popularity is shown by the rising social media figures.
With each scroll, something new is revealed. This holds our interest for extended periods of time because it contains material from all over the world.
But it's possible that your social media posting schedule doesn't correspond with the times when your target audience is online. Right now, a social media scheduler is useful.
To maximise reach, you can align and schedule social media postings with a social media scheduler to be posted on numerous channels at different times.
In this article, we talk about tools and platforms that are similar to Hootsuite. We also talk about the pros and cons of other platforms that are similar to Hootsuite.
Without further ado, let's get started!
What Factors Should You Take Into Account Before Purchasing a Social Media Management Tool?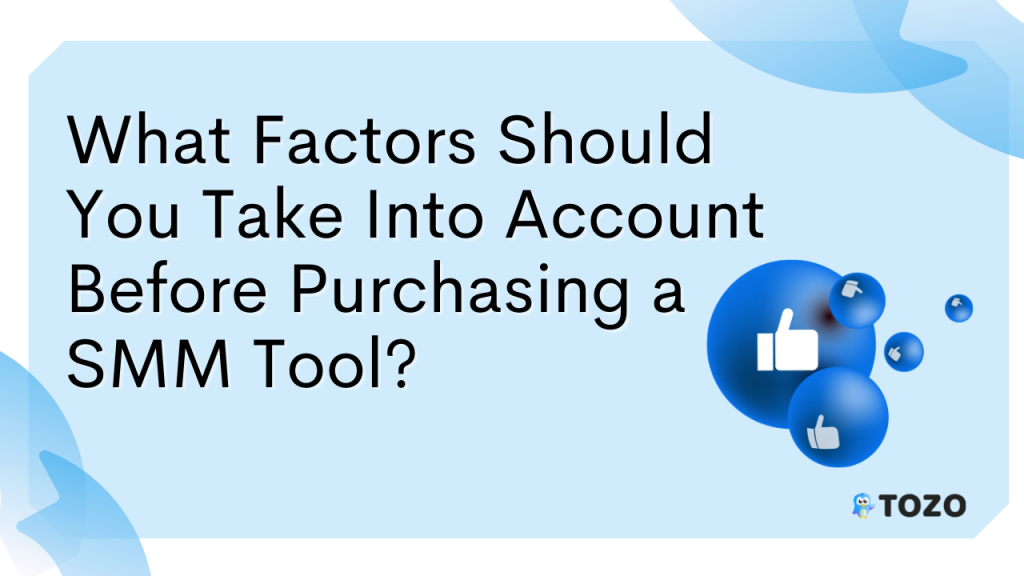 The management of social media involves more than merely posting three times per week and responding to comments. More art and science are involved than that.
It would be a lot simpler for businesses if they could generate leads or earn money by curating just two or three posts every week, For your business generate lead, sales and customer support on automation with SocialNowa chatbot.
We didn't need to write this, and you wouldn't be looking for alternative to hootsuite here.
If you work as a marketing manager or social media professional, your duties go much beyond just posting and responding on Twitter, Facebook, and Instagram.
While a poor social media management tool can make your life more difficult, a good one can make it easier. How can you be certain that the tool you've chosen is the best tool for your business is the key question in this situation.
What Qualities Should A Tool For Managing Social Media Have?
Before purchasing a social media management solution, ask the following four important questions to yourself or your client:
Which functionalities are required?
How many users will this tool have?
What is your spending limit for a social networking tool?
Will this tool come with customer support?
What Qualities Should a HootSuite competitors Have?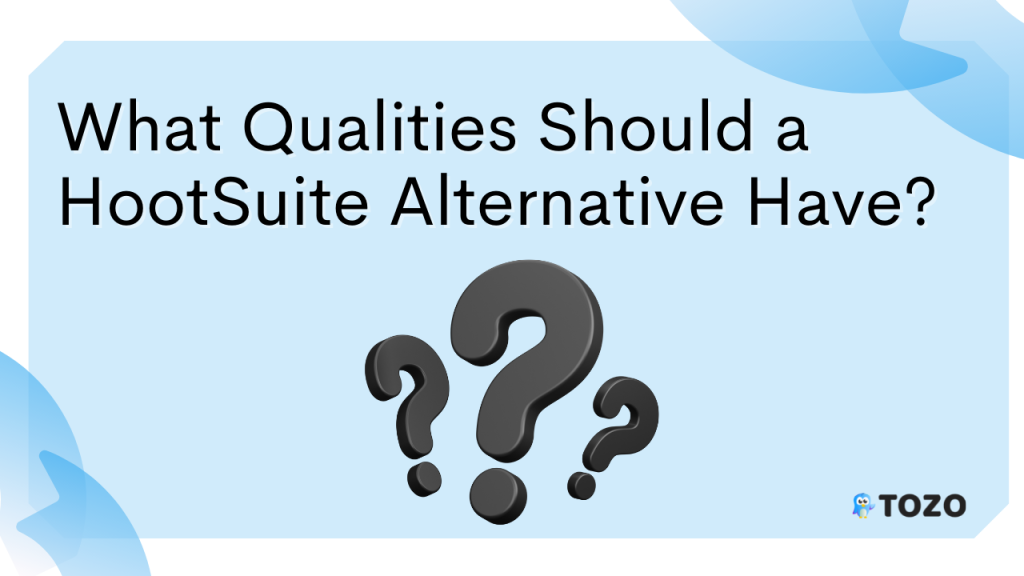 1. Simplifying Social Media
Distributing your content across all of your platforms is the main focus of the top social media management solutions.
Choose a social media management tool that integrates with your most often used platforms so you won't have to constantly flip between windows or log in and out.
One of the most important qualities you ought to look for in a HootSuite substitute is this.
2. Automation of Content
Who doesn't adore automation and a user-friendly tool that allows you to concurrently schedule all of your content across many networks?
Social media management tools excel in this area and surpass the majority of people.
3.Analytics
Analytics is the third prerequisite for a HootSuite substitute. To get in-the-moment information and create fresh social media tactics, social media analytics are crucial.
Utilise analytics to learn more about your audience so you can tailor your content and publication schedule to their preferred methods of engagement.
4. Moderation and Participation
The goal of social media monitoring is to keep track of and respond to comments made about your brand online.
By monitoring potentially detrimental material (legitimate or not) about your company that is released publicly, moderation can assist in safeguarding your brand's reputation and help build a brand's reputation with consumers.
Which Social Media Planning Tools Are the Best?
Here is a carefully compiled list of 5 social media scheduling tools, which have been rated according to their features, customer assistance, accessibility, and verifiable client reviews.
You can choose the tool that best suits the needs of your team with the aid of this list.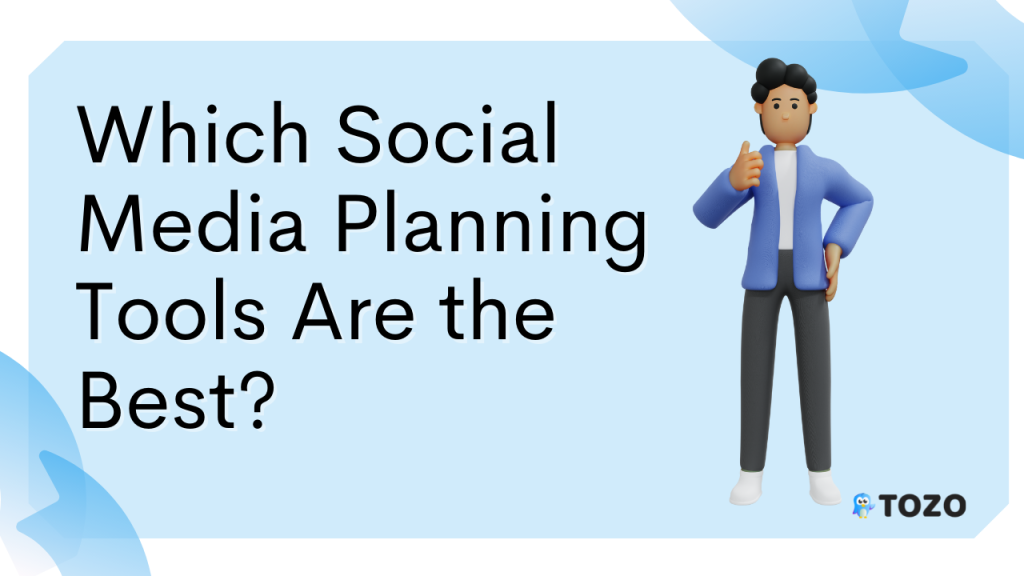 Looking for an easy-to-use, reasonably priced tool? Your search has ended. One of the simplest to use social media marketing tools is called Tozo.
It enables you to publish on a wide range of social media websites, including Facebook, Twitter, LinkedIn, Instagram, Telegram, YouTube, Pinterest, Tumblr, Reddit, and VK. Post, Schedule, Monitor, & Grow your Brand on 11 Social Media Platforms.
Tozo's features are all created to make it simple to create social media plans that enhance marketing efforts.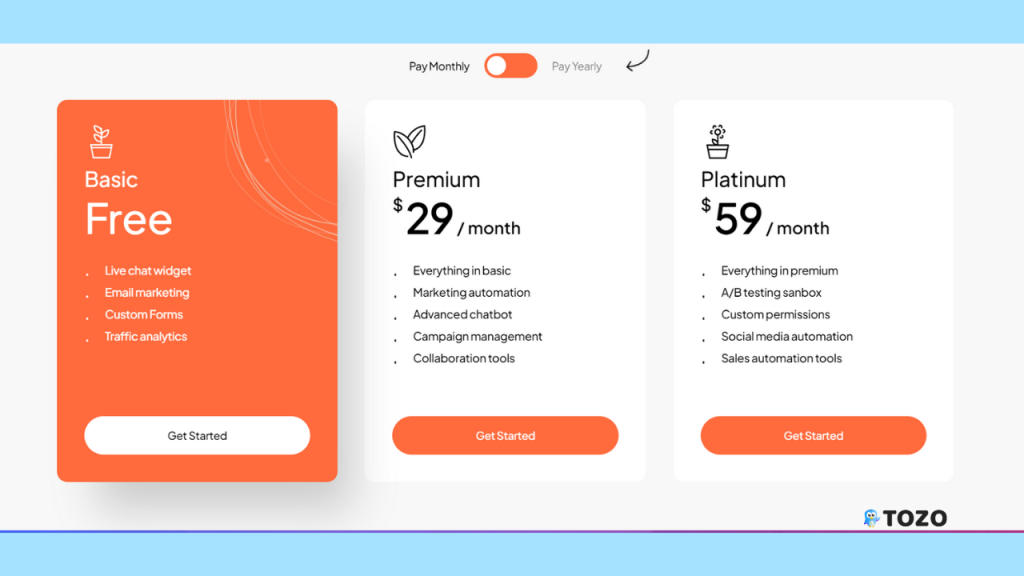 Pros –
Thanks to the straightforward onboarding process and intuitive design, creating an account is effortless.
Keep track of engagement on all of your social media sites.
With its SmartQ feature, Tozo provides the ideal window of time for scheduling social media postings (when your audience is most active).
Features –
Manage all your social media from one
Using an all-in-one social media marketing tool, accelerate your social media growth.
Schedule and plan your social media efforts visually.
Measure the effectiveness of your content and report on it.
Keep track of engagement on all of your social media channels.
Create custom posts for individual social platforms
easily control multiple clients' social media accounts
Share blogs with integrated RSS feed
Share blogs with integrated RSS feed automation
Visualise content strategy with the social media calendar
Support
2. SocialBee vs hootsuite
Finding a social networking platform that works for small businesses might be challenging with so many options available, but fortunately, SocialBee has what it takes.
Your social media productivity and content strategy may benefit greatly from SocialBee's reasonable cost, user-friendly design, and strong feature set.
You can look here SocialBee Pricing plan –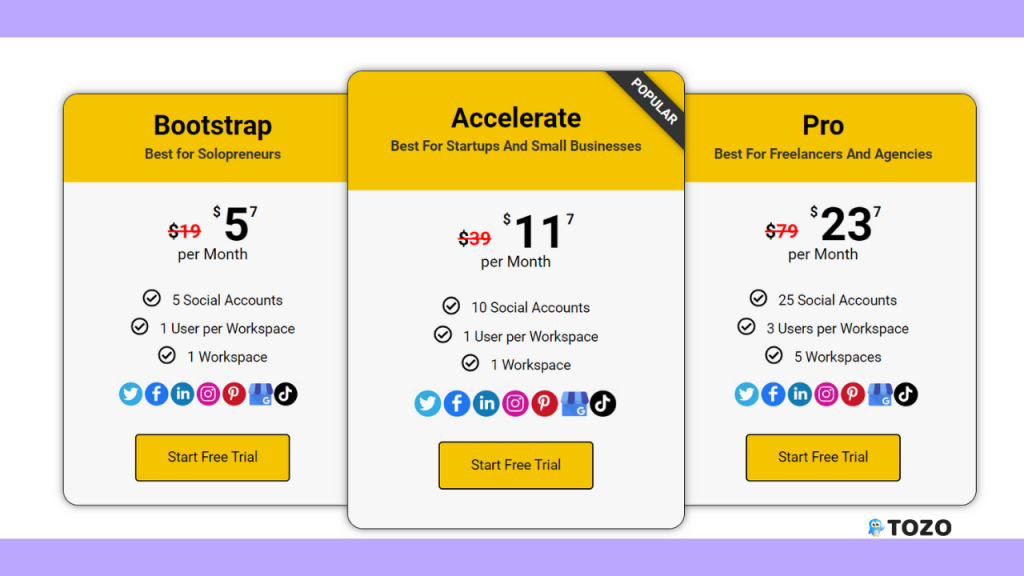 Pros
Making use of SocialBee's content categories makes managing and scheduling your articles really simple.
Setting up your account is simple thanks to the intuitive design and easy onboarding procedure.
For busy business owners without a dedicated crew to handle these chores, its concierge services take the guesswork out of social media administration and marketing.
Along with timely customer assistance, they also offer extensive resource guides on social media marketing and management.
Cons
Users can't find individuals to follow and interact with on social media thanks to the lack of data and insights in audience features.
Reports cannot be exported for clients.
Features:
Scheduling Based on Category Pause Categories
Re-Queue Posts
Individualise for Each Profile
Affix Variations
Bulk Editor
Post at a Specific time
Import Multiple Links Simultaneously
RSS Import
Page Statistics
Content Classification Metrics
Expire Posts on a Particular Date
3. Buffer vs hootsuite
Buffer is a social media publishing and scheduling app, similar to SocialPilot. The user base of Buffer adores it. Social networking platforms like Facebook, Twitter, LinkedIn, Pinterest, and Instagram all function nicely with it.
Buffer's integrations with Chrome and WordPress are wonderful additions. Want to organise social media posts using your smartphone? Don't worry; Buffer works with iOS and Android as well.thats why buffer is best alternative of hootsuite.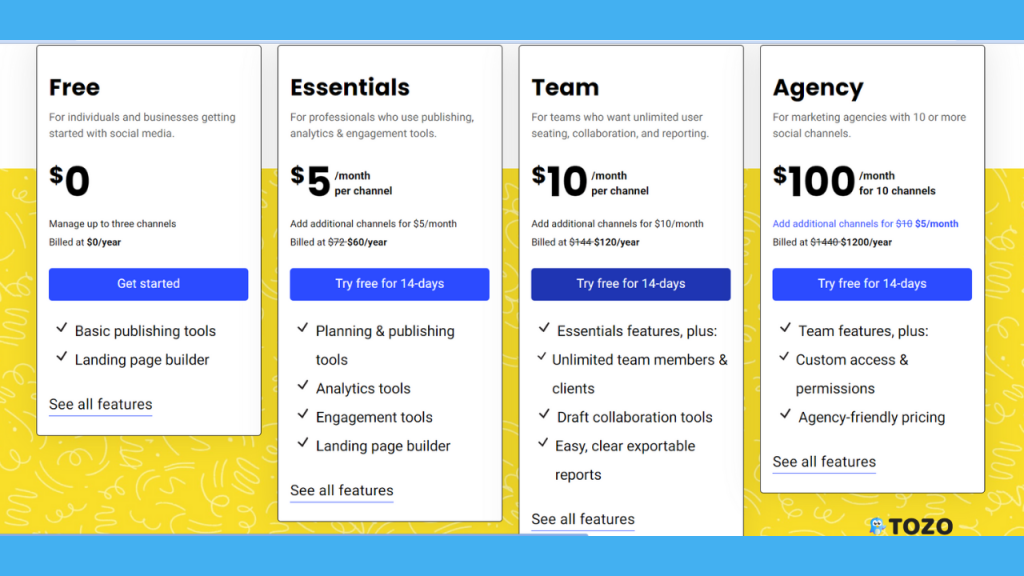 Pros –
You can share content and schedule posts on Twitter, Facebook, LinkedIn, Google+, and Pinterest with just one simple click.
You can schedule and share on Pinterest using Buffer. But it's through a different, for-pay app called Tailwind, which costs $9.99 per month. Pinning has been incorporated into the platform of Buffer's paid plans.
Pablo, a free image-creation tool offered by Buffer, can help you quickly create social media images for Facebook, Twitter, Pinterest, and Google+.
Cons –
There is no Instagram integration with the system
You will need to monitor mentions, searches, and hashtags using another tool or directly through the networks since there are no monitoring tools for these.
Features:
@mentions
API
Alerts/Notifications
Electronic Publishing
Automatic Planning
Schedule Management
Campaign Direction
Tools for Collaboration
Content Archive
Management of content
Import/Export of Data
Visualisation of data
Regarding Small Businesses
Management of several accounts
Attribution across Channels
Multi-Channel Advocacy
Measures of performance
Scheduling after
4. Agorapulse
This is a CRM and social media scheduling application that facilitates teamwork among agencies and organisations. Agorapulse allows users to interact, listen, participate, and measure their social media activities.
Social networking platforms including Facebook, Twitter, LinkedIn, Youtube, and Instagram are supported. Additionally, this tool for social media posting provides tools for bulk scheduling, a unified inbox, and RSS feeds.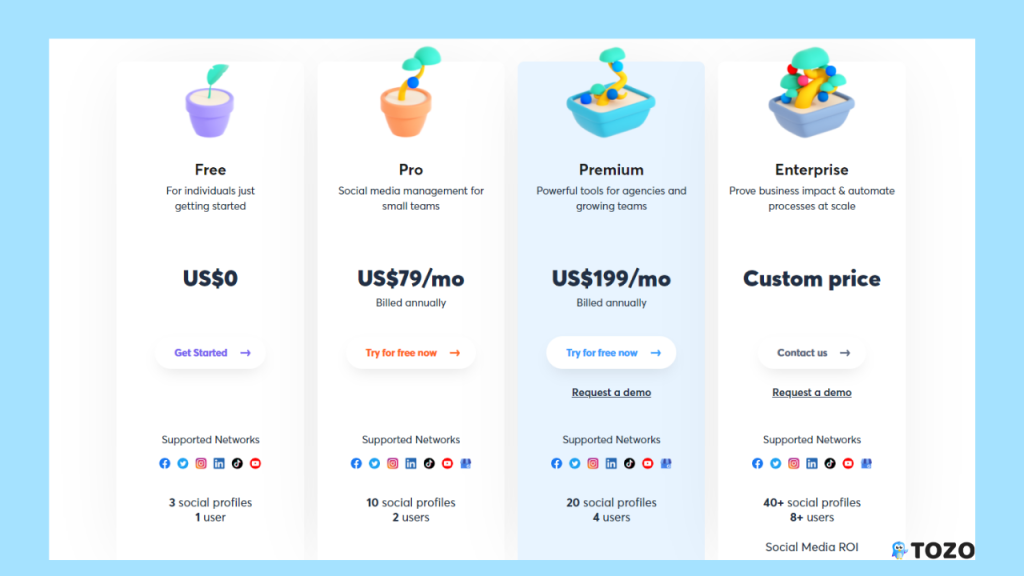 Pros –
a small portion of the cost of more feature-rich programmes like Sprout Social
provides email and chat help for customers around-the-clock.
extremely effective in managing comments on Facebook and Instagram
Cons –
Does not interact with Pinterest or Google My Business
No RSS feed for the system to automatically pull articles from
does not provide chat bots or integrate with platforms for support desks and online reviews.
Features:
audience participation
Facebook publishing
content reserving
email for social media
Automated inbox helper
CRM on social media
using social media
Analytics
code generator for UTM
group cooperation
Integrate Bitly
5. Sprout Social
A social media sharing application quite similar to Hootsuite is Sprout Social. Access to features like a smart inbox, thorough social media analytics, and personalised reporting is more of a business tool.
Facebook, Twitter, LinkedIn, Instagram, and Pinterest are supported by Sprout Social.
By focusing your efforts in the proper direction, Sprout Social can actually raise the quality of your work. Analytics can be quite helpful in assessing your entire social media success. sprout social is a good alternative of hootsuite.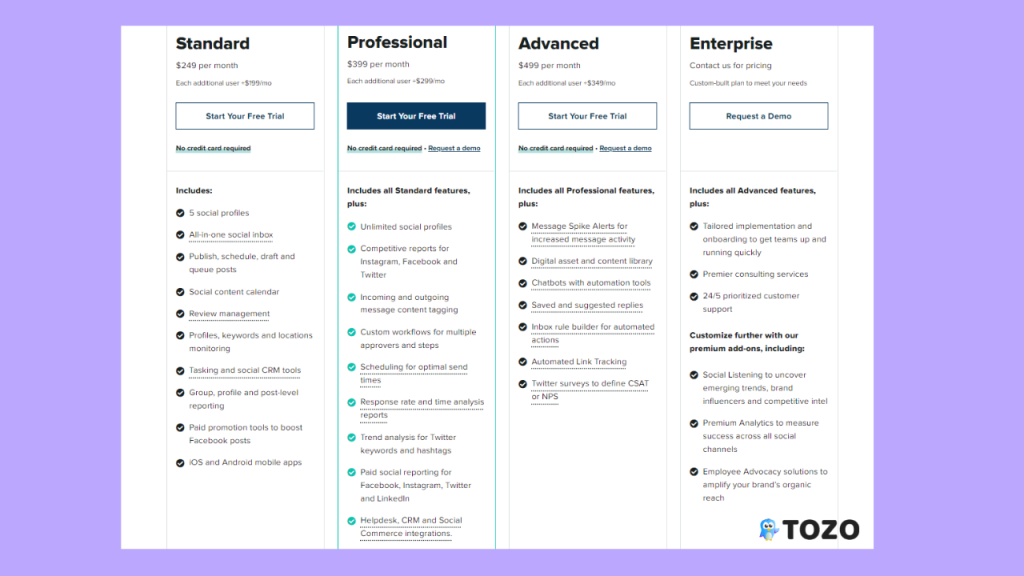 Pros –
The entire platform is really well designed and provides excellent UX.
There are no half-measures; the entire platform from Sprout Social is fantastic.
It is simpler to manage your social media content when posts are tagged.
The content calendar makes it very easy to schedule posts.
Analytics and reporting provide a wide range of information and great insights.
You can save money by using the social listening feature instead of a specialist social listening tool.
It is simple to collaborate with your team thanks to team workflow.
Support is first-rate.
Support is accessible through a variety of methods.
Cons –
It has a high price tag, making it difficult for new enterprises to justify investing in it.
If you have a large staff and everyone needs access to the tool, it can get quite expensive very quickly.
There is some learning involved. To take full advantage of all the features and user experience of Sprout Social, you'll need to use the instructional tools offered.
Features:
Schedule publications
In-the-moment analytics
Instantaneous editing
Real-time surveillance
Reporting in Real Time
Live Conversation
Instantaneous Updates
Statistics & Reporting
Reporting/Analytics
Response Control
Examining Monitoring
Search/Filter
Sentiment Assessment
Social Media Marketing
Community Listening
Integration of social media
Monitoring social networks
Managing Social Performance
Project Management
Task Management
Key Takeaways
To have a strong social media presence, businesses and social media managers require social media management software.
Gaining a solid understanding of the main social platform dynamics will be made possible by marketing insights.
These tools encourage producing high-quality work faster. Additionally, a lot of HootSuite substitutes provide free accounts with limitless curated content and premium analytics for enhanced social media management.
Social media management tools' advantages include:
Boost social responsibility
Analyse the results of your accounts.
Adapt to the competition.
Maintain successful customer relationships
Better team collaboration can be attained
Want to manage your social media accounts automatically? Create a free Tozo account today!