Introduction
Are you interested in optimising your social media marketing strategy for 2022?
Good! Now is the ideal time to put those plans into action.
In a world with more competitors, content, and networks than ever before, having a clear plan gives you the focus you need to say "no" to things that don't help you reach your goals.
Because of this, we went ahead and put together a detailed guide for starting from scratch with a social media marketing strategy.
This blog offers everything you need, whether you are completely new to social media or simply want to double-check your priorities for the year 2022.
A breakdown of everything you aim to accomplish and all you want to achieve via the use of social media platforms is what makes a social media marketing strategy.
It directs the actions you take and provides feedback regarding whether or not you are successful.
Your plan will be more successful if you are able to detail every aspect of it. Be as brief as possible. You don't want to set a goal that's so high and broad that it's impossible to achieve or quantify.
In this blog, we will take you through nine easy steps that will allow you to develop a successful social media strategy of your own.
How to develop a marketing strategy for social media platforms.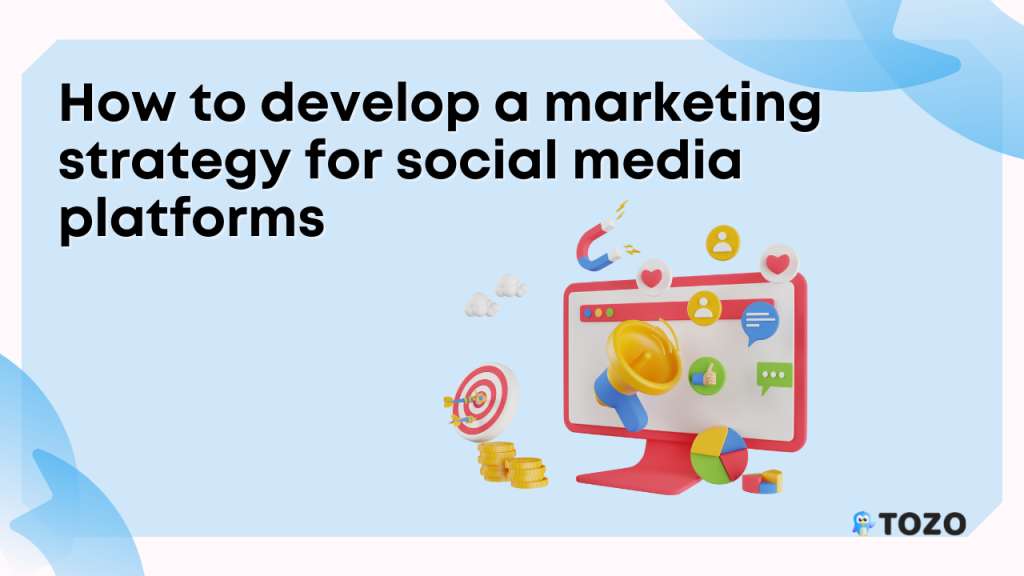 Set the goals that make sense for your business.
Spend some time studying the demographics of your ideal customers.
Create interesting content for social media platforms
Keep your online presence as current as you can.
Analyse what is successful, what is not, and how to proceed further improvements.
Research your competitors well and learn everything you can about them.
Create accounts to make your profiles more complete.
Create a social media content calendar.
Maintain a close eye on performance, and adapt your social media plan as needed
What exactly does it mean by "social media marketing"?
This concept is known as "social media marketing." The term "social media marketing" (SMM) refers to a style of online marketing that takes advantage of the apps that are made available by various social media platforms.
These social media sites allow businesses to connect with their target audience in order to: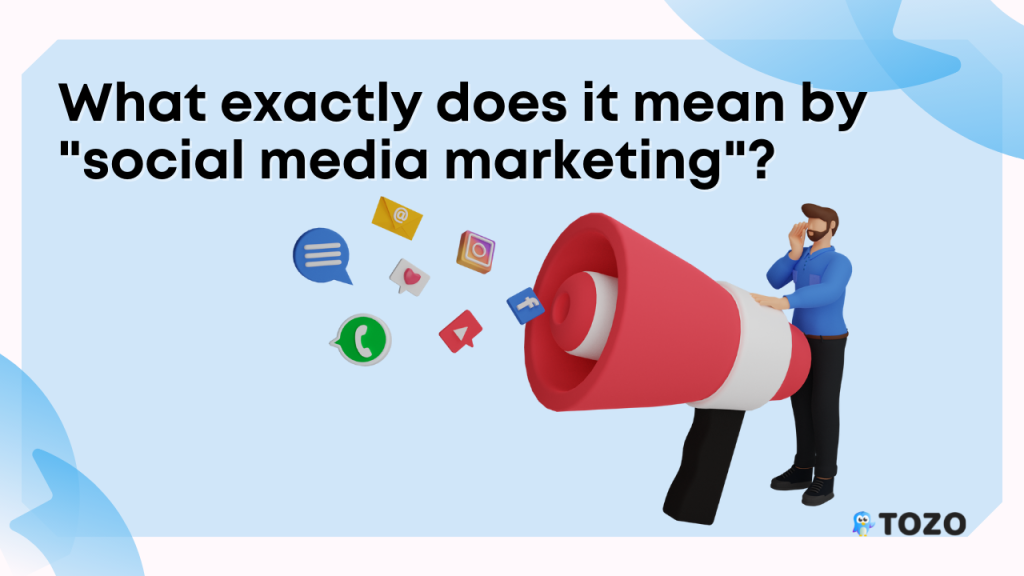 This will help to create a brand, raise the number of products sold, boost the number of visitors to a website, and develop a community of followers who will share and interact with the material.
Increasing a brand's exposure can be accomplished by producing material that is both relevant and likely to be shared by consumers with their own personal networks.
When used as a way to find new employees, it also helps them reach more fans and future customers.
What is a social media marketing strategy?
A document that outlines your social media goals, the strategies you will use to attain those goals, and the metrics you will track to measure your progress toward achieving those goals is called a social media strategy.
In addition, your social media marketing strategy should include a list of all of your existing and planned social media accounts, in addition to goals that are unique to each platform on which you are involved.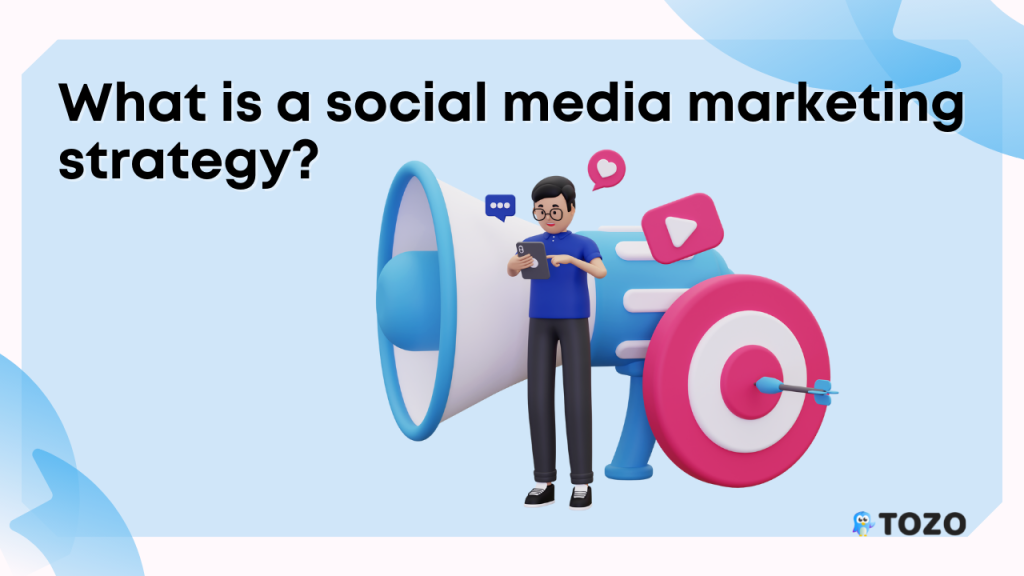 These goals should fit in with the overall digital marketing strategy that your business is using.
Finally, a solid plan for social media should specify each member of your team's duties and responsibilities, as well as provide an explanation of your reporting schedule.
1. Set the goals that make sense for your business | Social Media Marketing Strategy
Let's move straight in with a question to get things started:
"What exactly are you aiming to achieve by using social media?"
The planning of your social media strategy should begin with your goals.
According to the findings of the 2021 Sprout Social IndexTM, the most popular objectives for social media are to raise brand recognition (58%) and to boost community participation (41%). 
Taking the time to write down your social goals is the first step to reaching them. This is true whether you want to gain more followers or make your community more active.
In either case, your objectives will determine the social media marketing strategy you use, as well as the amount of time and effort you devote to your campaigns.
It's quite normal for all of you to have multiple social media goals at the same time.
Unless you have a team, in which case different people or groups within the team can take on different goals, it is often beneficial to concentrate on only a small number of goals at a time.
For example, the engagement team at Buffer uses social media to give great customer service, while the marketing team at Buffer uses social media to both improve our brand awareness and drive visitors to our content.
Both of these goals are accomplished through the use of social media.
2. Spend some time studying the demographics of your ideal customers.
After you have cleared the question of "Why," the next thing for you to think about is who your target audiences are.
If you know who you want to reach, it will be much easier to answer the questions below about the content, location, and timing of what you want to share.
For instance, if a travel and leisure business (such as Away) is aware that the people who make up its target audience enjoy reading about new locations and travel advice, the brand may offer content of this nature on its social media sites.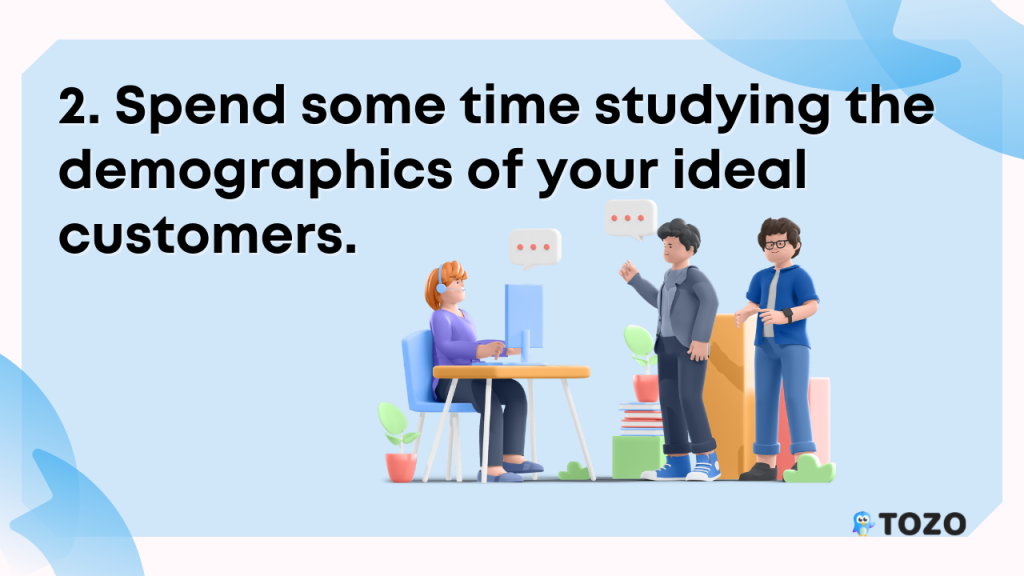 It is essential that you have a solid understanding of both your audience and the content they want to consume on social media.
You will then be able to generate material that people will enjoy, remark on, and share with their peers. It's also important if you want to turn the people who follow you on social media into customers for your business.
In the world of marketing, making assumptions is a bad idea.
The fact that just 55% of marketers make use of social data in an effort to better understand their target audience indicates that there is a significant opportunity here for both leaders and practitioners.
You already have access to a significant portion of the information about your audience that you require in order to shape your social media marketing plan. It's really just a matter of knowing where to look.
Marketers may conduct audience research in a short amount of time with the correct technology. There is no requirement for previous experience in market research or data science.
3. Make engaging content for social media platforms | Social Media Marketing Strategy
This should come as no surprise. Your content is the most important component of your social media marketing approach.
At this point, you should have a pretty good sense of what to publish based on the goals you've set for yourself, the audience you're targeting, and the identity of your business.
 I'm sure you've given some thought to the networks you want to cover as well.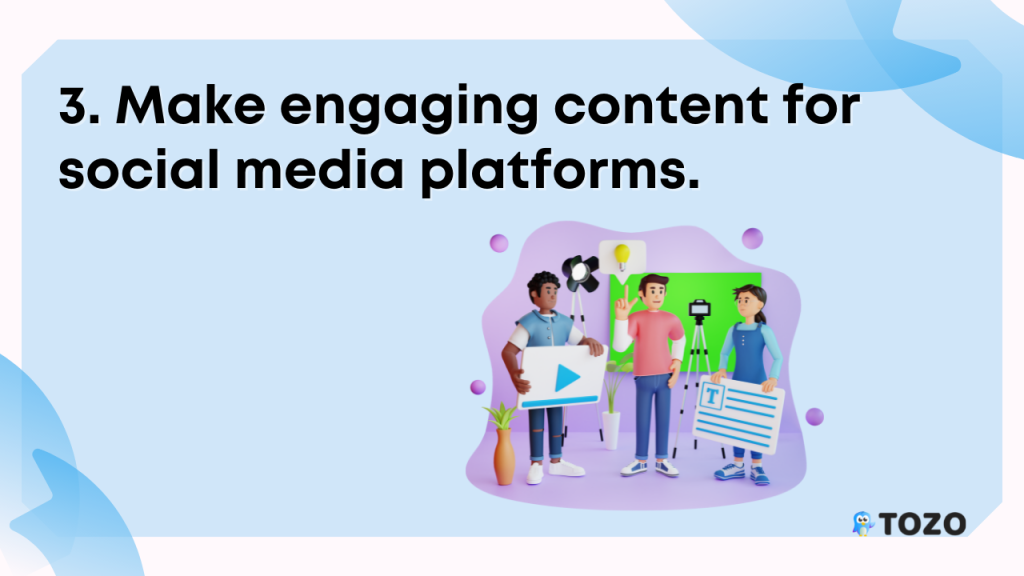 But what about your approach to the content of your website? The following is a list of ideas and sources of inspiration that may be helpful.
Many brands continue to rely, time and time again, on the same content forms and creative touches, whether it be visuals, reels, or something else.
With the assistance of these topics, you may become more consistent and zero in on a content strategy that actually makes sense.
You might, for instance, switch between memes, photographs of products, and user-generated material while adhering to a particular colour palette.
Consider using social media management tools that may help you organise your media library and pre-schedule your posts in advance if you are finding it difficult to keep up with all of these different sources of social media material.
4. Keep your online presence as current as you can | Social Media Marketing Strategy
It can be said that timely delivery is more important than it has ever been for marketers.
Not only is it expected of you to publish new content on a consistent basis, but also that you should always be "on" for the people who follow you.
But you can't always expect customers to function according to the schedule you set for them. When you have few resources or are on a small team, it can be hard to be on time.
Let's look at some ways to make the most of your schedule and the time you spend with friends and family.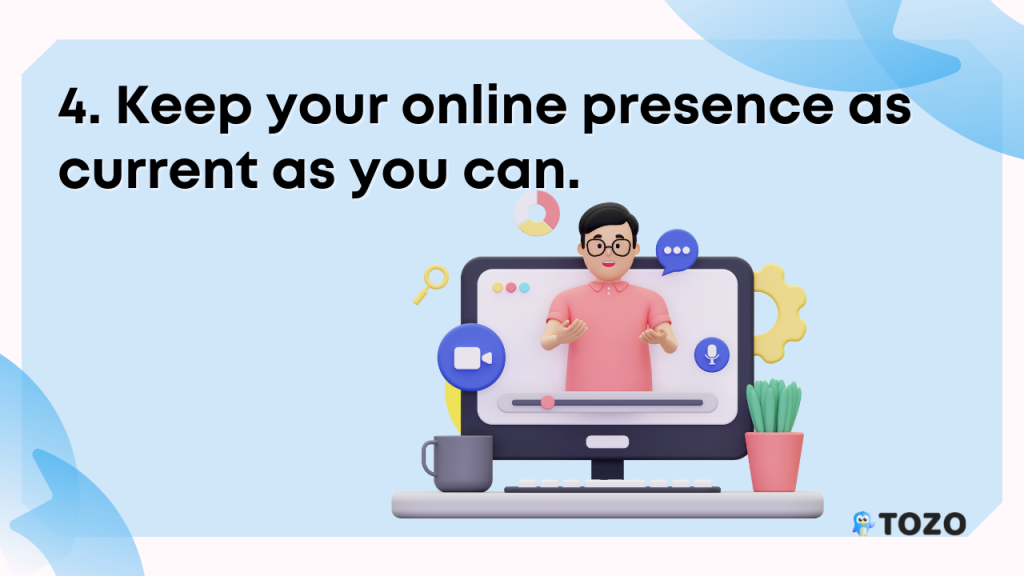 When it comes to engagement, timing is everything.
At what times is your company's brand available to engage in conversation and interact with customers?
For example, you might see some advised times to publish later in the evening. But what good does it do to post at the "recommended time" if your team isn't available to communicate at that moment?
When you tweet or post, you should instead make it a priority to check that your social media or community managers are free and able to respond to any queries or issues regarding the product.
Spend some time thinking about when you should publish on social media, and then do it. However, it is equally important to engage after the post has been made.
Quickly respond to any questions or comments raised by your customers.
Your clients anticipate prompt responses from you. In fact, 47% of people believe that superior customer service is what distinguishes a brand as the best in its category on social media.
Your company must never lose sight of these fundamental aspects of community development.
It takes effort to make certain that opportunities for dialogue or involvement are not lost because they were not attended to.
Being visible and engaging with your target demographic while using social media allows you to build credibility as a company.
Because good word about a company's customer service spreads quickly, companies that want to grow their audience should focus on giving their customers great service through social media.
5. Analyse what is successful, what is not, and how to proceed with further improvements.
At this point, you should know everything there is to know about your social media strategy.
Having said that, it is essential that you are able to modify your plan throughout the course of the year.
You'll never know which of your campaigns was more successful than the others if you don't regularly analyse your efforts.
Having a high-level overview of your activity across different social media platforms can help put things into perspective.
This includes taking a look at the content that is working the best for you and modifying your campaigns when it begins to plateau.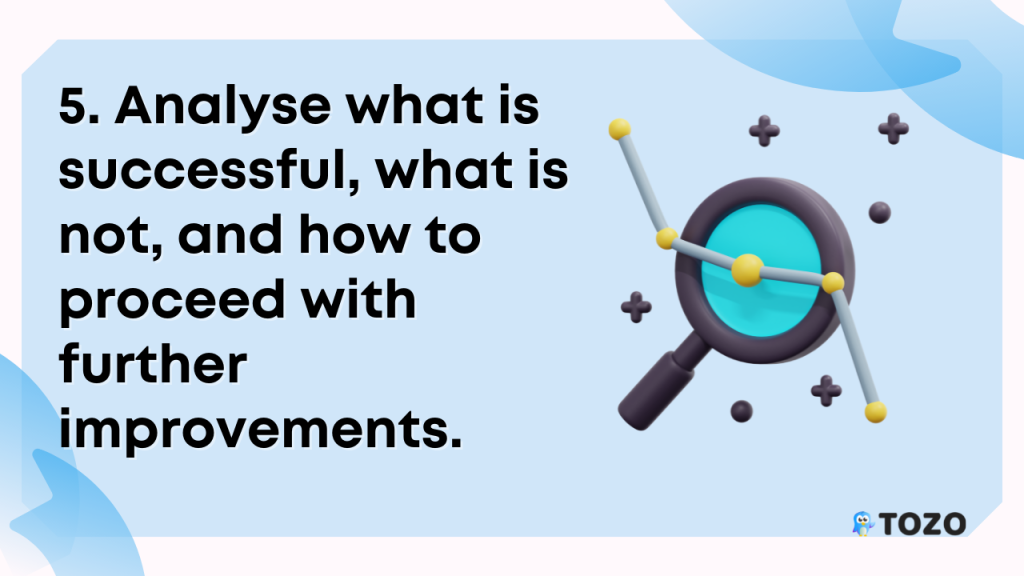 There is no denying the fact that most of what happens on social media is learned via the process of trial and error.
If you monitor the analytics that are driving your campaigns in real time, you will have the ability to make minute adjustments to your social media marketing approach instead of making significant, time-consuming shifts.
Being attentive to your data is the foundation of a successful social media marketing strategy.
You can employ a reactive approach in the near term to get the most out of the campaigns that you already have going, and then you can utilise proactive methods to make use of this learning to inform your subsequent strategy overhaul.
Reporting on data is also important because it lets you share with your coworkers and other employees at your company useful information you've learned from social media.
According to findings from the Sprout Social IndexTM, only 15% of marketers make use of social data to analyse return on investment.
If you put this information in your reports on a regular basis, you will not only be held accountable for your work, but it will also show how your social strategy affects and improves your bottom line.
You will be able to better evaluate, on the basis of your data, whether or not your key performance indicators (KPIs) actually align with your broader company goals or whether they require modification.
6. Research your competitors well and learn everything you can about them.
There is a good chance that your competitors are already active on social media, and because of this, you have the opportunity to study their strategies.
Analyse the competitive environment
Carry out an analysis of the competitive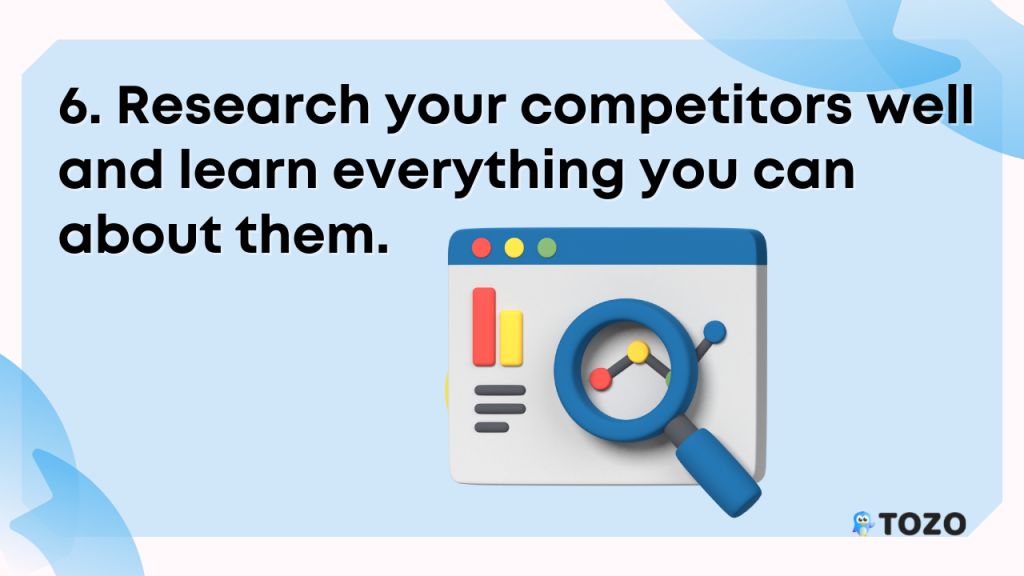 Your ability to understand who your competitors are and what it is that they do well can be gained through conducting a competitive analysis (and not so well).
You will get a good idea of what is usually needed in your field, which will help you set your own social media goals.
Additionally, it will help you in recognising opportunities.
It's possible that one of your competitors has a stronghold on Facebook, for instance, but they haven't focused much of their attention on Twitter or Instagram.
You should definitely concentrate on the networks where your target audience is served rather than trying to entice fans away from a player with a dominant market share.
Use social media for listening.
Listening to conversations on social media is another strategy you can use to monitor your rivals.
Carry out searches on social media using the firm name of the rivals, the handles of their accounts, and any other pertinent keywords.
Find out what others are saying about them and what they are sharing by looking at what they are sharing.
7. Create accounts to make your profiles more complete | Social Media Marketing Strategy
Select which of the networks you will use.
You will need to decide your strategy for each social network at the same time as you choose which social networks to use.
Even within networks, different forms are designated for certain purposes by Tozo's very own social team.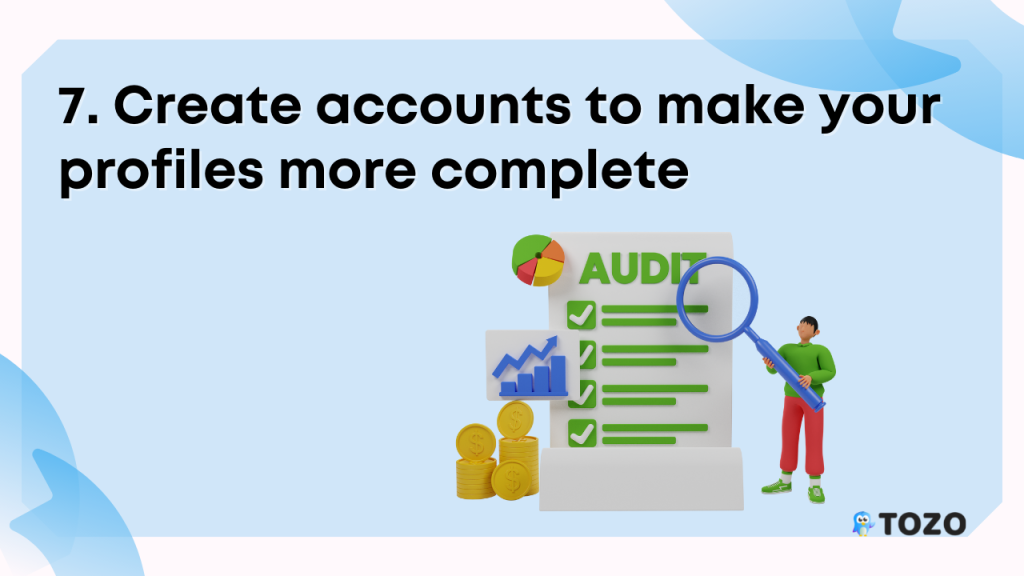 On Instagram, for instance, they use the feed to post high-quality educational infographics and product announcements, and they use Stories to capture live events or quickly update their social media profiles.
Set up your profiles
The next step, after determining which social networks you wish to concentrate your efforts on, is to establish profiles on those networks.
Alternately, you may work to better connect the ones you already have with your overall goal.
Make sure that all of the fields in your profile are filled out.
Include terms that people would type into a search engine to find your company.
Employ a branding strategy (logos, graphics, etc.) that is similar across all networks in order to make your profiles more easily recognisable.
Please don't let the length of this list confuse you. Keep in mind that it is preferable to make effective use of a smaller number of channels rather than try to maintain a presence on each and every network.
Create a social media content calendar.
It just means that sharing good content is important, but it's also important to have a plan for when you'll share it so that it has the biggest impact possible.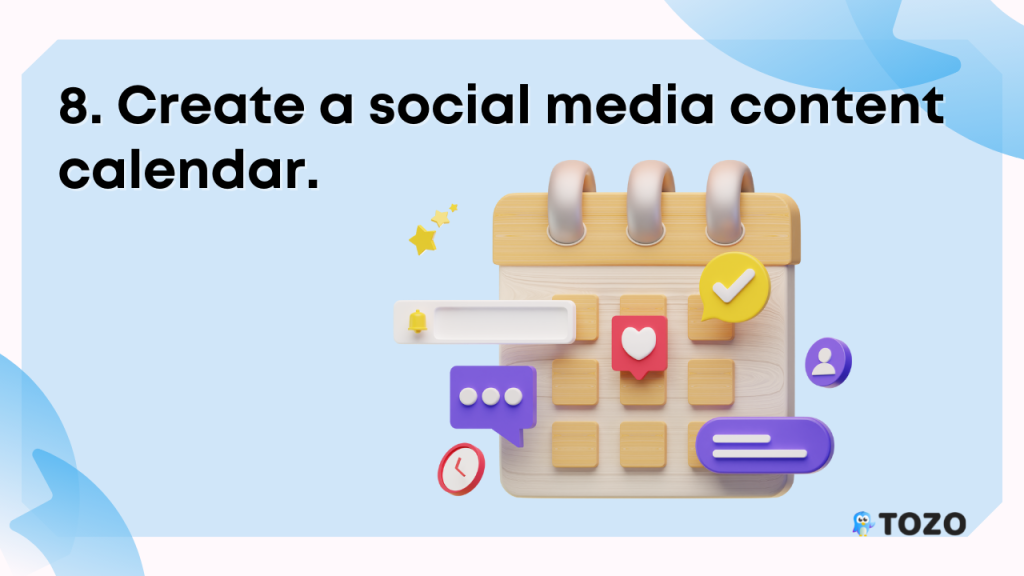 Also, you should include the amount of time you spend interacting with followers on social media in your editorial calendar (though you should also leave room for some unplanned interactions).
Establish a publishing schedule for yourself.
The dates and hours at which you plan to publish various sorts of content on each social media channel are listed in your social media content calendar.
It is the ideal location for organising all of your social media efforts, including the creation of blog posts, videos, and photographs, as well as the sharing of links and re-shares of user-generated content.
It comprises not just the content you share on a daily basis, but also the content for social media campaigns.
Your calendar will also make sure that sufficient gaps are left between your postings and that they are published at the most optimal times.
Tozo is a useful tool for planning your entire content calendar and obtaining recommendations for the optimum times to post on each network based on your historical engagement rate, impressions, or link click data.
You can plan your entire content calendar using Tozo.
Find the optimal combination of content.
Make certain that your content strategy and calendar mirror the mission statement that you've assigned to each social page.
This will make sure that everything you post is helping your company reach its goals.
You might come to the conclusion that:
50% of the material will be responsible for driving visitors back to your website.
About 25% of the content will be compiled from a variety of other sources.
About 25% of the content will be compiled from a variety of other sources.
Some of the content will contribute to the aims of lead creation (newsletter sign-ups, ebook downloads, etc.).
There will be 5% of content devoted to the culture of your organisation.
Including all of these different types of posts in your content schedule is the best way to ensure that you keep the appropriate balance.
Do not post an extra bit or a too small amount.
If you're just getting started with social media marketing, it's possible that you don't yet know how frequently you should post to each network in order to achieve the highest possible level of engagement.
If you post on your site too regularly, you run the danger of driving away your readership. However, if you don't publish too often, you run the danger of giving the impression that you aren't worth following.
Begin with the following recommendations for the frequency of posting:
Instagram (feed): 3 to 7 times a week.
Facebook: 1 to 2 times per day
Twitter: 1 to 5 times per day
LinkedIn: 1 to 5 times per day on LinkedIn
9. Maintain a close eye on performance, and adapt your social media plan as needed.
Your social media marketing strategy is a very important document for your company, but you can't just assume that you'll get it perfect on the very first try if you use social media to promote your business.
It is possible that once you begin to put your strategy into action and keep track of the results, you will discover that certain techniques do not perform as well as you had planned, while other strategies work even better than predicted.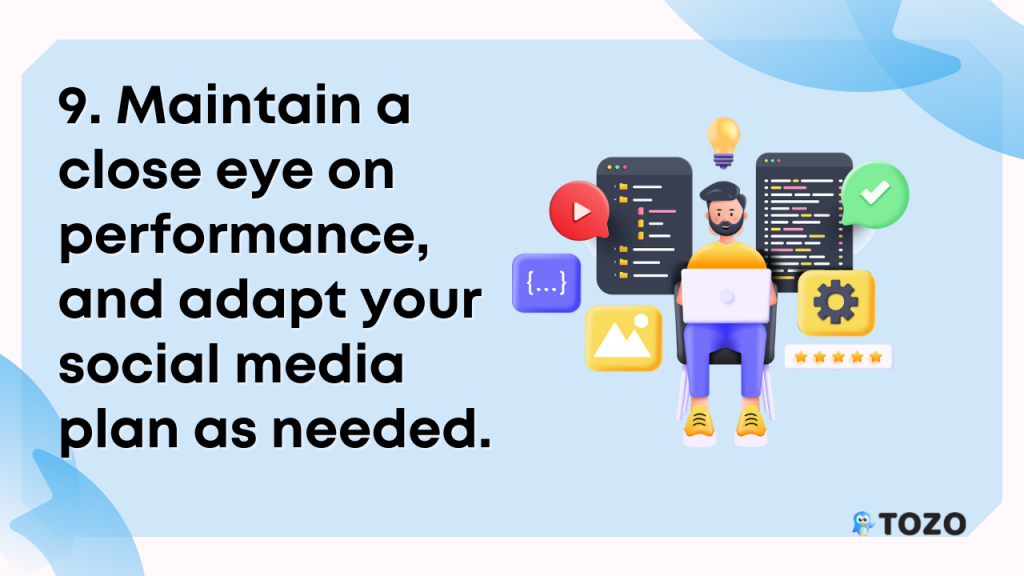 Examine the key performance indicators.
You can use UTM parameters to track social visitors as they move through your website in addition to the analytics that are available within each social network (see Step 2 for more information on this), which will allow you to determine precisely which social posts bring the most people to your website.
Reexamine everything, put it to the test, and start over.
When this data finally starts rolling in, you should make regular use of it to reevaluate your plan.
You can also use this information to compare and contrast the performance of other postings, social marketing initiatives, and methods.
Continuous testing enables you to determine which aspects of your social media marketing strategy are successful and which ones need improvement, allowing you to make adjustments in real time.
In order to keep track of your performance over the course of time, you need to do a performance review of each of your channels at least once a week and become familiar with the principles of social media reporting.
A helpful hint: if you use Tozo, you will be able to analyse the performance of all of your posts across all networks in one location. When you have the hang of checking your analytics, you may even want to personalise different reports so that they show specific metrics over a range of different time periods.
This is something you might want to do once you have the hang of reviewing your analytics.
In addition, surveys are an excellent method for determining how successfully your social media plan is being implemented.
Ask the people who follow you on social media, subscribe to your email list, and visit your website what their requirements and expectations are, as well as what they'd like to see more of from you.
Then you should be sure to follow through with what they instruct you to do going to complete your social media strategy
Alert: Nothing is ever completely solved.
The social media world is changing at a breakneck pace.New networks are formed while existing ones experience demographic alterations.
In the same way, your company will go through phases of transition as well.
The takeaway from all of this is that your strategy for marketing via social media should be a dynamic document that you regularly analyse and adapt as necessary.
Use it often to make sure you stay on track, but don't be afraid to make changes to make sure it reflects your new goals, methods, or strategies.
Make sure that every member of your team is aware whenever there is a change made to your social strategy.
With this approach, they will be able to collaborate with one another to assist your company in getting the most out of its accounts.
structure for developing a social media strategy.
What should I do now? We are here to support you whenever you feel that you are ready to put your strategy into action…
Use Tozo to streamline the management of your social media marketing plan and save time. From a central management panel, it is simple to:
Prepare, create, and publish content to be shared across all networks.
Maintain a record of the important keywords, subjects, and accounts.
Maintain control of interaction with the help of a consistent inbox.
Obtain performance data that is simple to understand and make adjustments to your approach as required.
Conclusion
Is your marketing strategy for social media set up and ready to go for 2022?
This guide highlights that there are many moving parts to a modern social presence, which is a common theme throughout the text.
However, putting together your own doesn't have to be a chore if you don't want it to be.
When it comes to your social media marketing plan, you will be light years ahead of the competition if you first set goals that you can reach and then go through each of the steps above.
Be sure to check out our social media marketing toolkit with templates and resources if you need additional inspiration for actionable methods to build out your plans.
In addition, if you are looking for a place to start, our social media marketing toolkit is a great place to start. I wish you the best of luck in 2022!